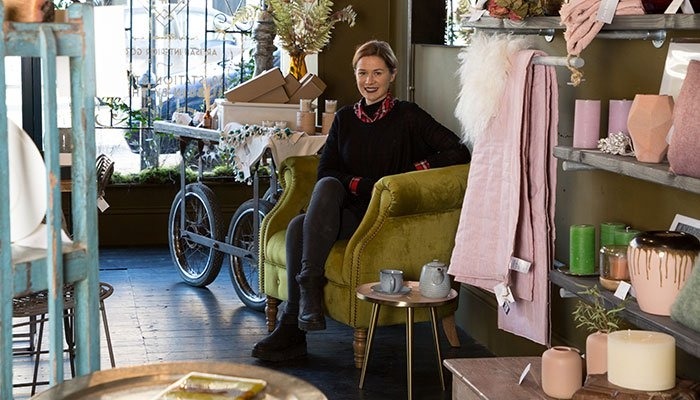 This article was published on May 16, 2018
Christina Easton, Owner of LillianDaph has a love affair with interior decoration. With a 'magpie eye' and personal love of tactile finishes, these particular qualities resound in the products she hand picks for her interior store, The LillianDaph Store. Here, Christina gives us an insight in to how timber windows and doors can change the appearance of your home and advice on how to dress windows to impress…
Windows and doors – a tricky subject for the self proclaimed interior addict! Quite often these are elements we inherit and so generally speaking are not to our personal taste. Also, 80% of the time they are extremely generic; (if I dare say) plastic and generic.
Along with hardware fittings like door handles, windows and doors come in top of the list when we're talking elements of the home that for some reason, have a very generic and mediocre (serve a purpose) presence in the interior field. It's a subject I'm super passionate about. Why as homeowners do we succumb to the 'that's your only option' spiel?!?
It's not. Just as interior accessories, there are a world of choices for your windows and doors, and if you ask us, it's these details that will help you craft a personal home that you will fall in love with.
I can hear you already, 'PVC windows are economical. They serve a purpose and they don't cost the earth.' I can hear you because my husband spoke this exact line to me, and guess what – we ditched our breezy old timber windows in favour of (warm, granted) white UPVC ugly plastic windows. Probably the worst load of money we've spent on our house reno, and 3 years later were looking at replacing them with what we should have installed in the first place.
OK, OK. This is a tough subject if you live in a new build, but I'd say generally if you live in a new build you won't have bought it for the UPVC windows, and you won't be looking at replacing them just yet for a while.
If, however your house is older than 15 years, I'd say timber windows and doors could be a big investment that could be one even bigger game changer in terms of injecting a little personality, and finesse into your home.
People have varying opinions on period homes and how you should stick to the original period features to compliment. It's true that they will compliment, however as I do when talking interiors, I'd say the same thing about this topic – shop what you love.
The only way you'll ever create a home that you are head over heels about is to fill it to the brim with everything you love, not what you think you should. (As I'm writing this I can feel the anger towards myself and our plastic window choice brewing!)
From the first instance of pulling up outside, less generic windows and doors would affirm that something cool and interesting is waiting inside; or on a more personal level it may be as simple as the warm greeting of your Crimson Red front door that makes you forget the days worries and welcomes you home with arms.
When we talk dressing interiors, we always talk softening windows. Personally, curtains and blinds don't do it for me. Yes they bring softness and perhaps provide privacy that is a necessity but I'm forever trying to think of more creative ways to soften window spaces. Large plants and vessels full of looping eucalyptus are the current solution of choice. If your windows were already a thing of beauty, not stark white plastic, this softening would be a much easier job, no? We encourage you to add lots of natural textures in your spaces to ground them and create visual interest. Tactile surfaces add a level of luxury and Timber windows will do just that – after all would we want to cover up the natural beauty of timber?
Basically, the bottom line here – I'm sure you wouldn't go stick a white plastic cushion on your £3000 sofa, surely that is no different to sticking white plastic windows in your much more than £3000 house?