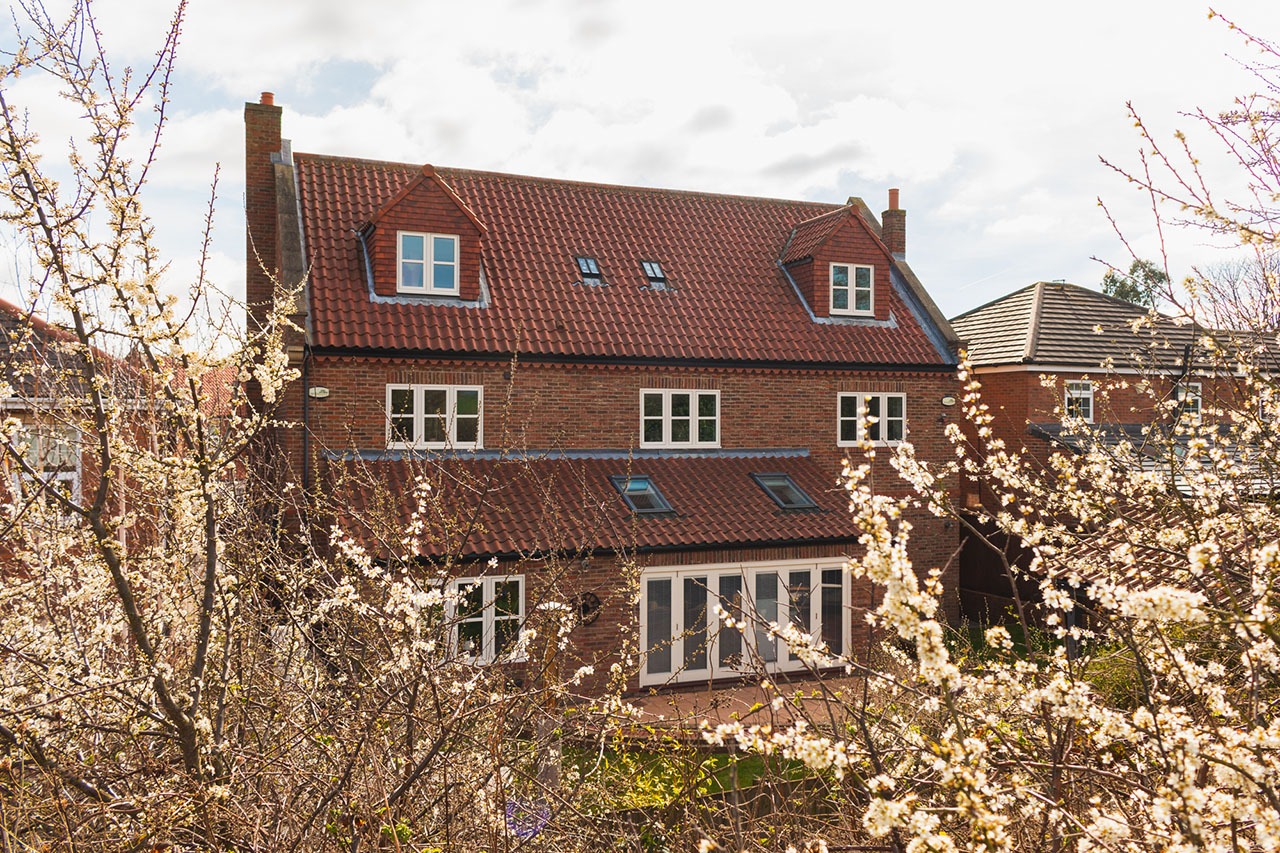 This article was published on April 12, 2019
Since launching last year, our range of AluWood windows and doors have proven to be a big hit with customers. The aluminium-timber hybrid products combine the warmth and visual appeal of timber, with outstanding resilience and low maintenance of aluminium — qualities that work well in the unpredictable weather conditions we have here in northern England!

Recent customers, Mr and Mrs Waites from Seaham, are enjoying the benefits of AluWood having recently added front and back windows to complement the bifold and French doors and front entrance door previously fitted by our team.

After completing the installation, the Waites' were kind enough to answer a few questions about their new look windows and doors.

Did you know what you wanted before you started looking for your new windows and doors?

We knew we wanted replacement windows as our old timber sash windows were rotting and extremely draughty. Personally, I don't like the look of uPVC, so we had spent the last few years waiting for ERW to begin producing the Aluwood. We've used ERW for previous work so we knew their products would be of a high standard.

Given that your property is only 12 years old, what was it that made you decide to change your windows and doors so soon?

We used a local tradesman to produce and install the old windows when we built our house 12 years ago. Unfortunately, they were of very poor quality, and we soon realised we were going to have issues with them. The company ceased trading shortly after we had them installed, so we had no comeback (it was a very costly mistake!). Had we known then what we know now, we would probably have used ERW to install timber sash windows when we first built the house. I'm sure if we had, we wouldn't have had to replace them so quickly. It's a lesson learned!

Why did you choose the Aluwood product for the front and back of your property?

The rear of the house faces onto open countryside and is exposed to the elements. Having had to maintain and paint the timber windows so often previously, we knew that they took a battering from the weather. As we didn't want uPVC windows, we began to research other options. Aluwood meant that we would have the comfort and warmth of wood on the interior of the house, but some sturdy, maintenance free windows that would stand up to the elements outside.

Do you see these products as a good investment?

We do see it as a good investment (goodness knows how much the draughty old windows cost us in lost heat!). Also, the look of the windows is still in keeping with the style of the house but with an up-to-date, modern twist (I hope!). Therefore, if we ever decide to sell the property, I think that the windows would be a selling point. It has been a big expense. They aren't the cheapest on the market, but the engineering and build quality of the windows is worth the extra.
What advice would you give others when making such an important purchase?

Honestly, I can't recommend ERW highly enough. They are so very professional and reliable. I would recommend anyone to use them for windows. However, I do think it's worth spending extra time when choosing what you want, to ensure you are happy with them at the end. ERW are really helpful and will answer any questions and offer advice when needed, without any pressure.

What effect have the windows had on your property?

I'm amazed at how quiet the house is. I can't hear anything outside now. We could hear the wind howling through the gaps before we replaced them and cars in the street sounded like they were coming into the house. Plus, I can take a bath without having a cold draught blowing through the window now (it's amazing how much of a luxury that is!). Internally, the windows don't look that different from the old ones. We were careful to keep the same character, with thick mullions and bars, which were in style with the old windows. Externally, the house looks tidy and well maintained, rather than rotting windows kept together with duct tape. We've already had lots of compliments from the neighbours too.
"I was dubious about losing the sash windows at first as I loved the look of them, but it's been the best thing we've done.

"The fitters from ERW are brilliant. They are extremely professional and leave your home as they found it. They clean up every bit of mess and ensure you are 100% happy before signing off." Mrs Waites.

A big thanks to Mr and Mrs Waites for taking the time to have a chat. You can find out more about our AluWood range here, or by checking out the window display in our Middlesbrough showroom.