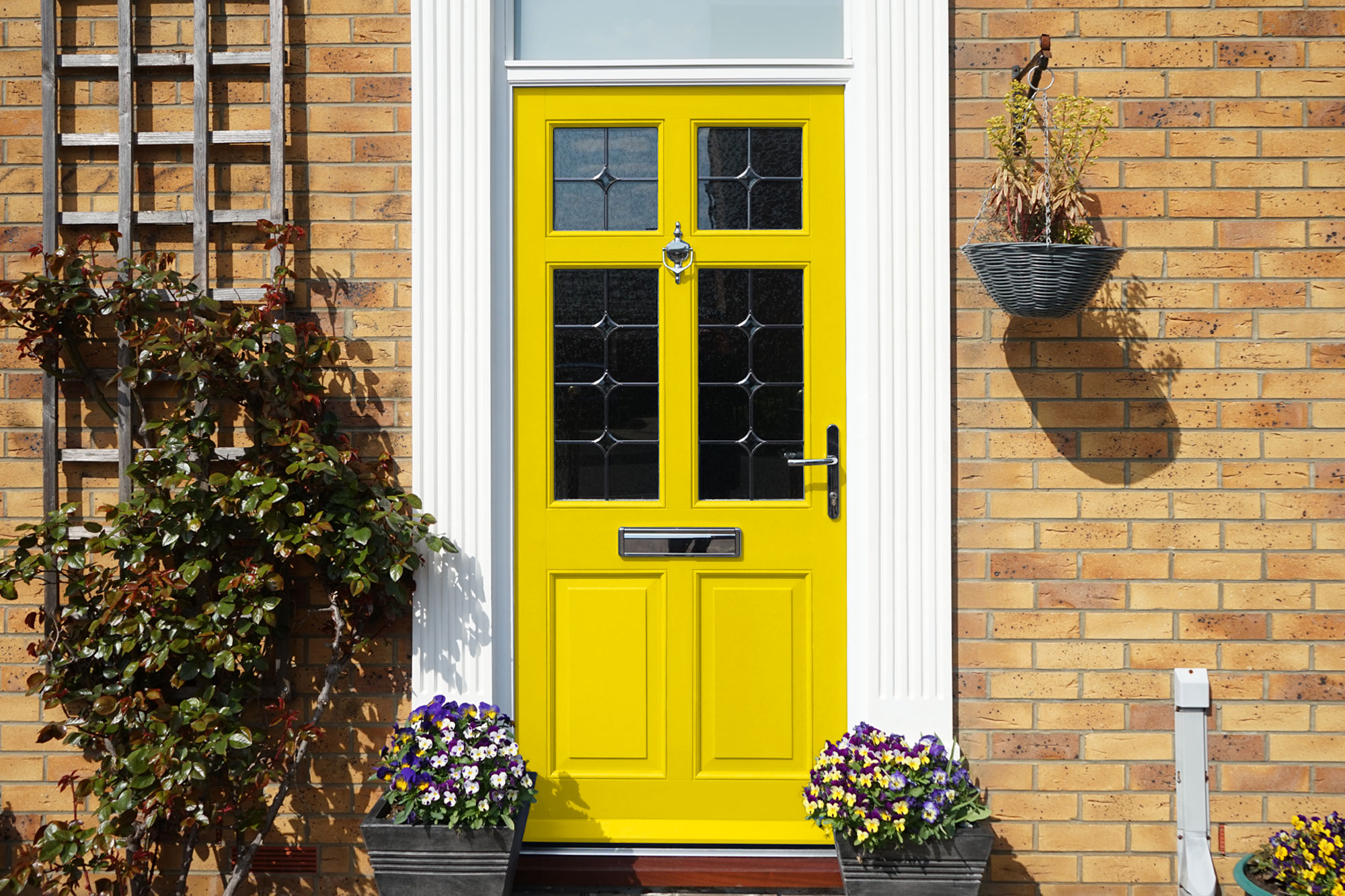 This article was published on May 23, 2019
The entrance door sets the tone for your home. It's the first thing people see as they approach the house and the first impression they get of what your home is like. It can also give visitors an idea about the type of person behind the door — a brightly coloured door creates a picture of someone that's fun, bold and creative, while a grey, wood or black door shows someone that's stylish and elegant, for example.
The entrance door is the perfect place to show off your personality and make your home stand out. And there is no shortage of colour choice — our timber frame entrance doors are available in over 150 colours, meaning you can change the colour of your door to suit the changing seasons or your change in mood.
Whether you want to make a statement or play things safe, here are a selection of colours to create that lasting first impression.
Making a statement
If you're looking for something to turn heads, bright and bold is the way to go. Red, yellow, bright blues, purple and pink create feelings of energy, happiness and creativity that are perfect for spring and summer months, but also uplifting during the cold, grey days of winter.
Yellow is friendly, cheerful and warm. It contrasts brilliantly with white and complements brickwork for real curb appeal.
Brighter shades of blue such as Barrier Reef, Townhouse and Pale Cerulean are ambitious and serene, whilst giving off a vibe of trustworthiness.
Purple gives a home a modern, luxurious and royal vibe in keeping with current trends. It's stylish, whilst being bold enough to grab attention.
Style and sophistication
If you prefer a more neutral, understated look, greys, greens, darker blues and the classic black and white colour choices allow you to style your front door in a way that complements the decor on the inside of your home.
While it's perhaps associated more with the autumn and winter months as a colour, grey has a practical, timeless appeal that allows it to be used effectively all year round. It's balanced and contemporary, and works well with any type of home — new build or heritage.
From sage greens to Deep Emerald, green is in keeping with the nature that surrounds your home. It's particularly charming when complemented with hanging plants and flowers surrounding the entrance.
Darker shades of blue such as navy, Deep Sea or Fjord (shown in the image below) show trust and dependability. They give off a sense of luxury and character that's welcoming to visitors.
White is one of the most popular entrance door colours for a reason. It's practical, fresh, clean and classic. It contrasts excellently with brickwork and most likely matches or complements interior aesthetic. Regardless of your type of home, location or season, white is a colour you can't go wrong with.
Black is the ultimate in sophistication. It's strong, authoritative and never likely to go out of fashion. Pairing a black timber entrance door with gold or silver hardware and white door frames gives a contemporary look that adds stature to any home.
There is no right or wrong colour to choose for your front door. You can stick with the same colour forever or change with the weather. If you're a fun, vibrant, creative person and want your home to command attention, go for something bold. If you're more practical and formal and prefer a look that's never likely to go out of fashion, opt for something neutral.
If you're not sure which direction to go in, speak to one of our experts. We can recommend the right style of timber door and the best colours to suit every kind of home. Call us for a chat on 01642 456167 or email us at info@erwltd.co.uk.