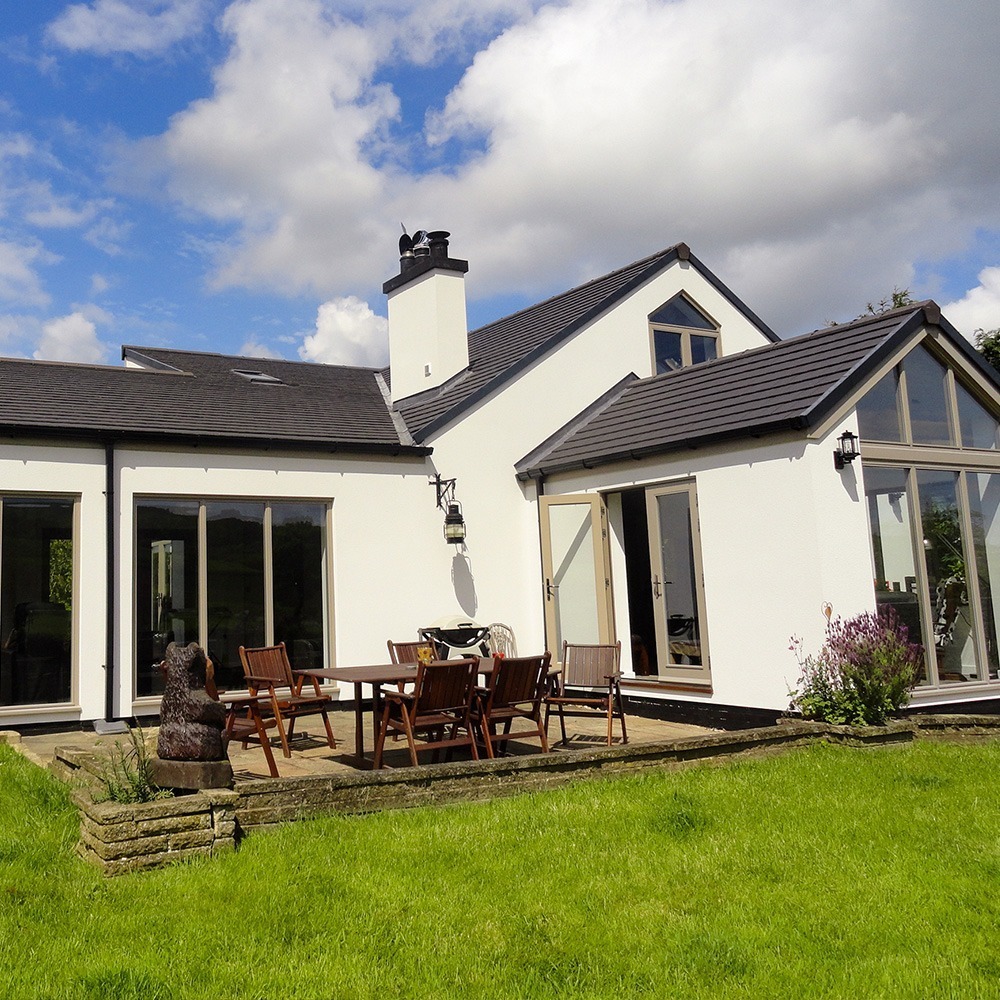 This article was published on September 5, 2019
If you live in what's classed as a modern house — a property built in the last 20-25 years, say — there's a good chance it has uPVC windows and doors. uPVC is cheap, lightweight and requires little maintenance. It's also easily mass produced, which is ideal for completing large estates of new build houses in a hurry.
But cheap, lightweight and little maintenance are positives, for homeowners as well as builders. So why, when it comes time to replace your windows and doors, would you choose something else?
Because when it comes to three biggest factors in choosing replacement windows and doors — looks, performance and longevity — timber is the outstanding choice.
Kerb appeal
As homeowners, we all want a house that turns heads; to put visitors in a positive frame of mind before they've stepped foot through the door. Timber windows and doors are one of the few ways to achieve real kerb appeal and one of the only ways for a home to stand out among the rows of uPVC window-fitted properties.
Few people will argue against wood being a more aesthetically pleasing material than plastic. It's natural and it brings a certain level of charm and character that plastic can't replicate. Plastic is trying, though. It's now possible to buy uPVC windows and doors that look just like wood (which is a testament to the growing popularity in timber products if nothing else).
However, unlike wood, the look you choose for your uPVC products is the look you're stuck with for their lifespan. With timber you're free to decorate over time, changing the colour to match the latest design trends so that the interior (timber is dual-coloured so that the colour people see on the outside can be different from the one they see when they enter the property) and exterior of your modern home is never anything less than… well, modern.
Timber windows and doors also have the advantage of being made to measure, in a range of traditional and contemporary styles that match your preferences and enhance the look of your home. The strength of the material gives it more design flexibility too, allowing you to create larger openings and custom made windows and doors that would be unachievable with plastic
In addition, you have a vast choice of hardware options with timber windows and can choose the from letterboxes to door knockers, locks to catches, which are of a high quality, designed for long-lasting performance and styled to complement the aesthetics of your windows and doors.
Superior performance
Timber is a natural insulator, which is why it's long been a popular choice of material for windows and doors. Still today, you'll see homes and buildings with decades-old timber frames installed. Unfortunately, though, not always in the best state, with rotting timber and chipped paint affecting both looks and performance.
Thankfully, manufacturing has come a long way and timber now matches uPVC in terms of maintenance and durability, while retaining its efficiency.
Using factory finished European Redwood, doors and windows offer long-term protection against warping, rotting and fungal decay. On the glazing side, traditional single-glazed timber units have been replaced by 'next generation' double glazing units that feature Super Spacer warm edge technology — making windows 5% warmer at the edge, with 70% reduced condensation and up to 2Db noise reduction.
And with Aluwood, the advancements in timber products go even further, combining the warmth and visual appeal of modern timber with outstanding resilience and low maintenance of aluminium.
Built to last
Timber windows and doors come with a 30-year guarantee (and a lifespan of 60 years). Compare that to uPVC which typically comes with a 10-year warranty (and a lifespan of 30 years) and you're looking at a far better long-term investment.
And a guarantee coming to an end is by no means a sign that windows and doors need to be replaced. Renovation and restoration techniques mean that timber can be maintained and repaired where required to prolong its life without having to fully replace the product.
It's also worth mentioning that during their lifetime, sustainably sourced timber products have negative global warming potential, working to reduce the amount of CO2 in the atmosphere.
The modern choice for the modern home
Windows and doors are a huge investment for any homeowner, but there is no better material to invest in than timber. It's more visually appealing, offers superior performance and lasts up to three times as long as uPVC. All while having a positive impact on the environment.
If you want to learn more about the benefits of timber windows and doors or find out about ERW's products and services, get in touch on 01642 456167 — we're happy to help.