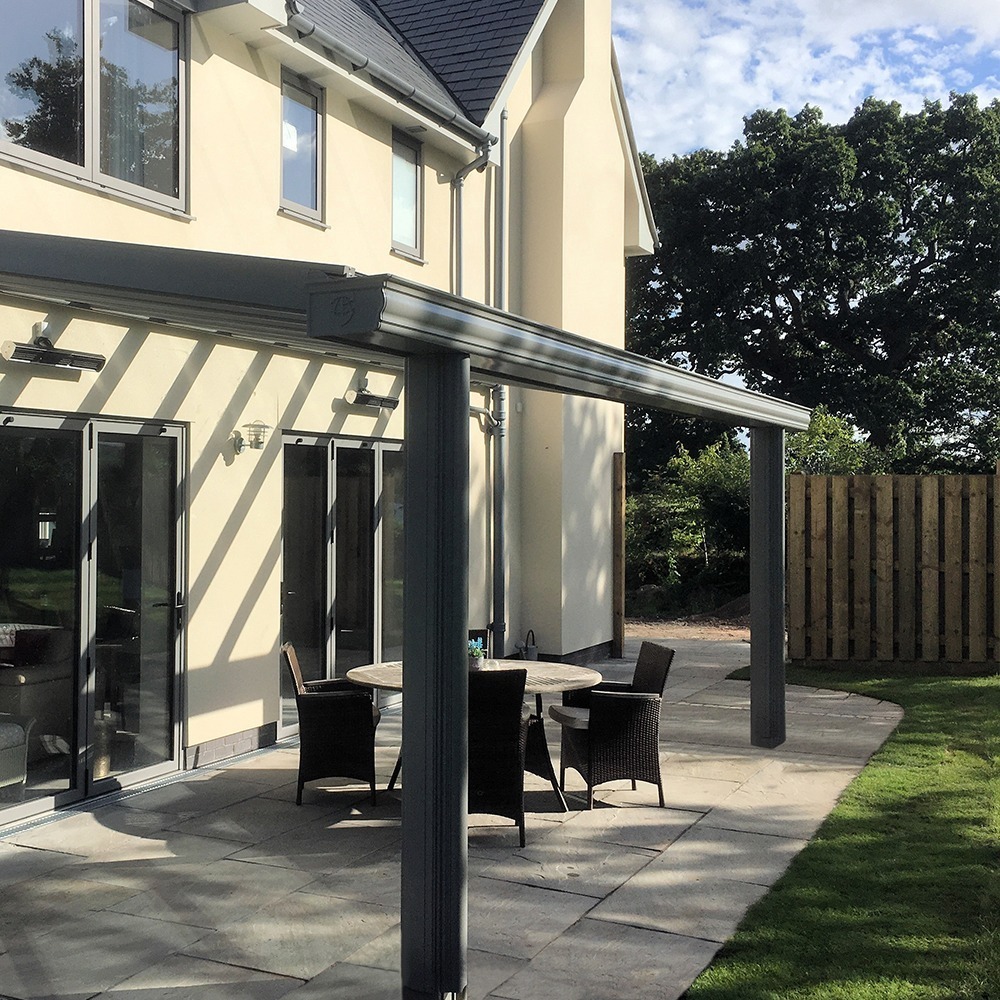 This article was published on August 25, 2020
There's been a new appreciation for gardens in 2020, and we wanted to give you some guidance on how to create a low maintenance garden for all seasons. For a large chunk of the year, they were the only place we had to spend quality time outside. And it was enough time to decide whether you enjoy maintaining a garden or prefer to relax in your surroundings without worrying about whether weeds need digging up or plants need watering. 
If gardening to you feels more of a chore than a pastime, a low maintenance space that looks as good in winter as it does in spring, without requiring you to dig, mow or rake, might be the ideal solution. To give you ideas on how to create such a garden, we've teamed up with All Seasons Bespoke Landscape Gardens to come up with some top tips.
1. Ditch the (real) grass
To achieve a low maintenance garden, the first thing that needs to go is the lawn. Grass is great but keeping it healthy and presentable takes a fair amount of time and effort. Artificial turf, on the other hand, stays the perfect shade of green all year round and requires no maintenance other than a light brushing to remove any leaves or twigs that might have blown in.
Modern artificial turf is realistic looking, soft to the touch and designed to last for years — ideal if you want a space for kids and pets to run around. It's also flexible and can be cut and rolled to fit any space. You'll want to make sure it's professionally installed though so that the ground is properly prepared to allow water to drain correctly and prevent problems further down the line.     
For garden play areas, materials such as rubber crumb resin and bark mulch are soft and safe to protect children should they fall, while providing a maintenance-free finish.
Image: All Seasons
2. Install low maintenance decking
Decking is often the go-to product for garden seating areas, but you'll want to avoid commonly used decking materials like softwood or hardwood for a low maintenance garden. Wood needs to be thoroughly cleaned at least twice a year and treated with wood preservative at least once a year (maybe more depending on weather exposure and traffic) to stop rot setting in. Wood can also be slippery when wet, which makes it unusable if it's exposed to the elements.
Instead, opt for composite decking, which is made from a combination of recycled plastic and wood. Composite decking such as Trex is environmentally friendly, more durable than wood, doesn't rot or splinter and can be designed with an embedded non-slip surface. It's also available in a range of colours and is longer lasting than wood by design (Trex comes with a 25-year warranty).
Composite decking can be paired with composite joists and is installed with hidden fixings that deliver a sleek, unformed finish (no need to meticulously line up screws), as you can see from this recently completed All Seasons project.
Image: All Seasons
3. Create outdoor seating for any weather
If you're creating a garden that stays looking good in all seasons, you want it to be a space you can enjoy in all seasons. Paving, such as natural stone, porcelain, sandstone, Indian stone, granite or slate can be used to create a beautiful large patio area that makes the most of available land.
Patio space can also be paired with a veranda so that garden furniture can be used regardless of the weather; or, if you intend to use your space for dining or entertaining, a bioclimatic pergola that combines the comfort of your home with the feel and views of your garden.
Both verandas and pergolas in our Outdoor Living range are custom manufactured to suit any garden, extending your living space and enhancing the look of your home. These combined benefits can help increase property value from five to 15 per cent. 
4. Embrace year-round plants
Going low maintenance doesn't mean ridding your garden of everything living. Shrubs add vibrancy and colour to your space without demanding your attention. They also enhance air quality and create habitats for various types of wildlife.
The following shrubs are dependable and beautiful choices that can be planted and left to their own devices.
Buxus
Red robin
Euonymus Fortunei
Abelia X Grandiflora
Osmanthus
Viburnum
Myrtus
Another good choice is lavender, which offers the added benefit of smelling as attractive as it looks. Once planted, lavender will come back year on year, providing a pleasant surprise when it blooms each June and July.
If you want to add more variety, a wildflower section takes care of itself, only requiring sun and rain to flourish.
Image: All Seasons
5. Lose the hedge
Hedges look attractive and can offer good privacy, but keeping on top of them is hard work. They need regular trimming, which is time-consuming, even with power tools. And if your hedge is over six feet, maintaining it becomes extra tricky, often requiring outside help, which can be costly. 
The simplest solution is to take your hedge out and replace it with a wall or fence. This involves a lot of work and large outlay initially, but once installed, a fence or wall lasts for years with little maintenance whilst adding real kerb appeal to your home.
Image: All Seasons
Less is always more
The key thing to remember when creating a low maintenance garden is that less is more. Keep your space clutter-free and use materials and features that are long-lasting and designed to hold up against the unpredictable British weather without you having to manage them.
Thanks to All Seasons Bespoke Landscape Gardens for their garden knowledge on this one. If you need help creating a low maintenance garden for all seasons, check out their services. If you're looking to develop an outdoor living space that can be enjoyed for relaxing and dining all year round, take a look at our range of outdoor living products. You can also contact us for advice on 01642 456167 by emailing sales@erwltd.co.uk or filling out our online form > click here.