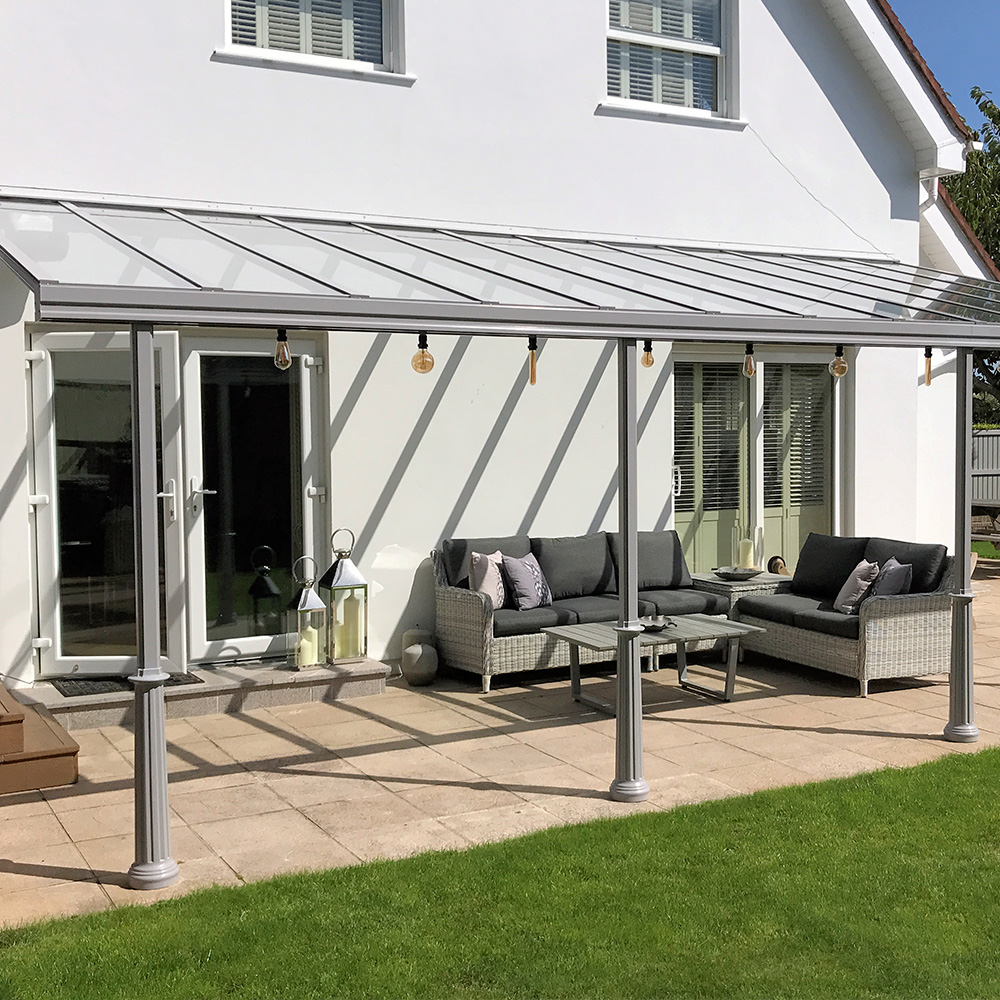 This article was published on April 9, 2021
A veranda can add so much to a property. From extending your living space to providing shelter that allows you to enjoy the outdoors all year round to protecting your garden furniture, it's an investment that brings an extra dynamic to a home or business while increasing its value. 
But for all its benefits, a veranda is a major purchase and not one you're likely to make on a whim. You need to be confident that a veranda is right for you and your property. 
With that in mind, in this post, we'll answer your most commonly asked questions to hopefully give you a clearer idea of whether an ERW veranda is what your outdoor space needs.
Do I need planning permission?
In most cases, no. If you're planning on installing a veranda in your home garden, you'll only need to apply for planning permission if the veranda is larger than 50% of your home's ground floor space. 
If the floor space is less than 35 square metres or the veranda is under 35 metres you usually won't require planning permission. However, this can be dependent on your property's location. If you're worried, it's always a good idea to contact your local authority to check the specific planning requirements. 
If you're installing a veranda to increase outdoor space for your business (e.g. a pub, restaurant or coffee shop) you will need to obtain planning permission. This can cost in the range of £2,500 to £3,000+. 
To help businesses with this process, we've launched an EasyAlfresco scheme that includes onsite surveys, technical drawings and support from a senior member of our team to assist you in securing planning permission. As part of the scheme — which is available until September 2021 –  you'll also get a 10% discount on orders. 
You can find out more about the EasyAlfresco Scheme here.
How much does a veranda cost?
All verandas across our range are custom made specifically to your size and style requirements. In other words, your veranda is unique to you. Because of this, there is no 'off-the-shelf' price.
If you know your size measurements and the style you want, contact our team and we'll be able to provide you with a quote. If you're unsure about what you want or what's right for your property, we can visit you to measure up, offer advice and provide a quote that way.
Are there different styles?
Verandas come in a range of different styles. Our Californian Veranda range includes five options, each with an individual look to suit various property types. 
Are there size restrictions?
No. All of our glass verandas are designed and manufactured to your needs. They're built to fit and complement your space. 
If you're unsure how big or small your veranda should be, we can visit your home or business to carry out a free site survey and advise you on the best solution. 
Can I build my own veranda?
DIY verandas are becoming more popular, particularly thanks to online guides and videos that show you the process. If you're a confident DIYer and you have all of the necessary tools and knowledge, you can build your own veranda. 
However, you shouldn't underestimate the knowledge, skills and time savings of hiring professionals. 
Our experience installing verandas that are custom made for your requirements guarantees you a safe and secure structure. It also takes away any of the dangers associated with DIY, including working at height. What's more, the installation can be completed swiftly and with minimum fuss. 
Perhaps the biggest benefit of purchasing a veranda over building your own though is the peace of mind that comes with a 10-year guarantee.
Can I choose a colour?
Yes. All verandas are available in any standard RAL colour so that you can match it with your home or garden, or choose a contrasting colour to bring a different energy to your outdoor space. 
Do glass verandas offer UV protection?
Both of our 6mm toughened glass and 6mm toughened self-cleaning glass offer UV protection so that you're protected from the sun's rays. UV protection also helps protect outdoor furniture from fading. 
In the case of the 6mm toughened, self-cleaning glass, a UV-activated special coating is applied during manufacture. When activated by a small amount of UV, the coating breaks down organic dirt so it can be easily washed away by the rain to keep your veranda clean.
How long are verandas guaranteed for?
All verandas across the Californian Veranda range come with a 10-year guarantee and a 25-year life expectancy. This means many years of enjoying your outdoor space in comfort!  
How long does it take to install?
Installation times can differ depending on size and requirements, but the process from design to manufacture to installation usually takes around 6-8 weeks. 
The installation part of the process is completed with minimum fuss thanks to a simple fixing system with minimal parts. Your veranda can be fully installed in a day. 
Do they require a lot of maintenance?
Our powder-coated aluminium frames are designed to withstand any weather without breaking down or deteriorating. A general wipe down of the frame and glass is all that's needed to keep clean. 
Self-cleaning glass will require even less cleaning as the UV coating and rain does most of the work for you.
What comes first, veranda or decking?
In most situations, the veranda should be installed first so that downposts have secure fixing points. Decking can then be installed after. You should never secure a veranda directly onto decking.
What's the difference between a veranda and a pergola?
A pergola is a freestanding structure that's best suited to larger outdoor spaces. A veranda is attached to your property to extend your living space and provide a luxury patio area. 
Is an aluminium veranda or timber veranda best?
Both aluminium and timber are good materials to use for a veranda. Both are strong and long-lasting. 
However, where timber will require regular maintenance and a fresh coat of paint every few years to protect it from the elements, aluminium requires next to no maintenance and never deteriorates.
Given that verandas are forever open to the elements, we opt for aluminium for all of our verandas so that you are guaranteed long-lasting performance with minimum fuss. 
If you have a question about verandas that we haven't covered here or you want to chat about installing a veranda at your home or business, call us on 01642 456167 or email us at info@erwltd.co.uk and our experts will provide all the help you need.
You can also view the full Californian Veranda and Bioclimatic Pergola ranges by downloading or requesting a print version of our brochure.