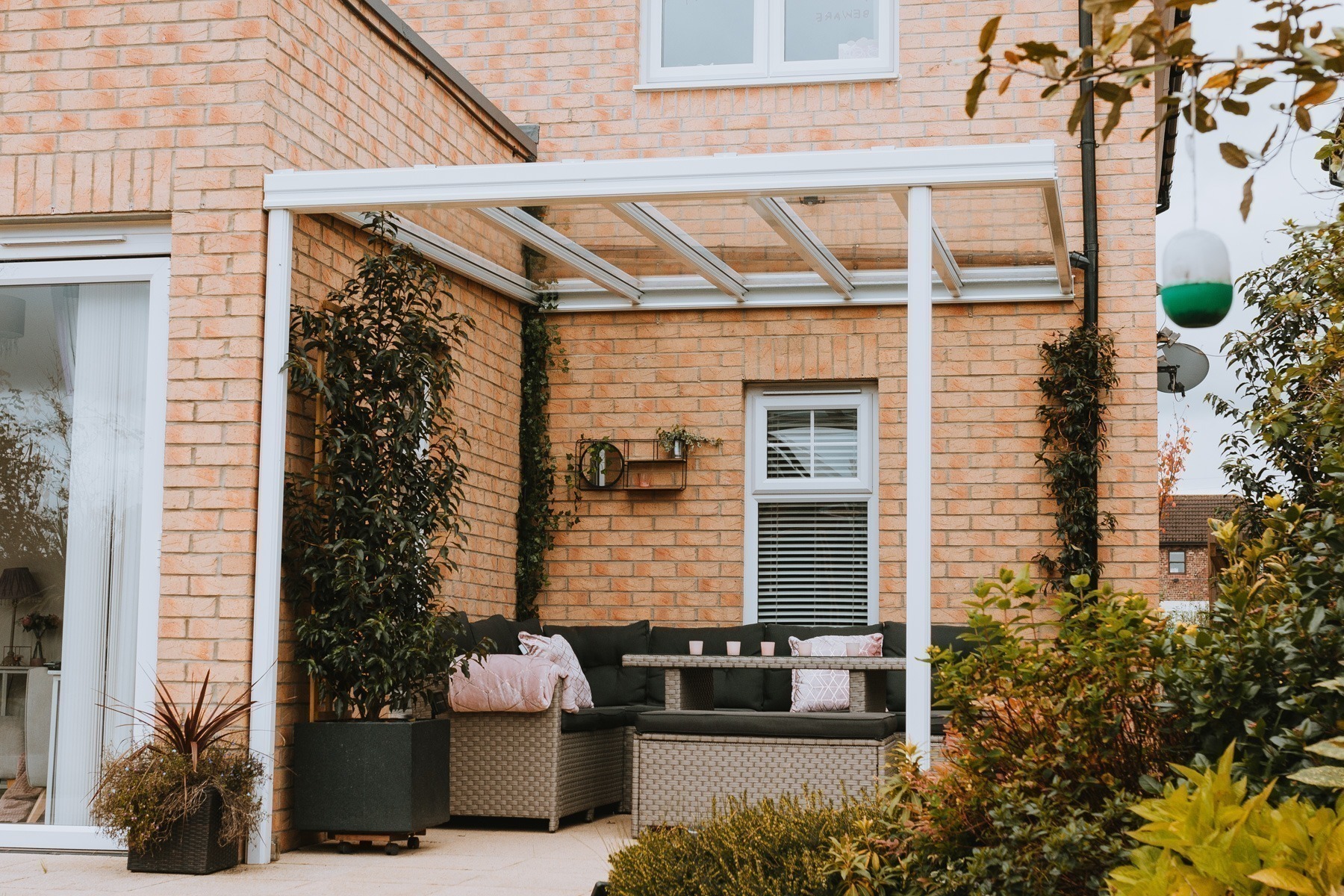 This article was published on April 30, 2021
One of the first questions we hear from people considering remodeling their garden and including a structure, such as a veranda, is how much will it cost. 
In this article we're going to talk through the various things which could impact the cost. 
The material of the structure
Wood
While timber verandas are cheaper, they need to be treated regularly to prevent rot, warping, splitting or bending. This can be time consuming and costly. 
One way to increase the longevity of a wooden veranda is to use glue-laminated timber. However, this is an expensive option, with aluminium being the more cost-effective option.
Aluminium
We've all experienced how harsh the British weather can be, that's why we use aluminium framed verandas. Durable, strong and robust, you have peace of mind knowing that your veranda will last for years to come. Being lightweight, aluminium structures are easy to install, making it the perfect material for verandas.
Additionally, aluminium verandas require much less maintenance than their timber counterpart. All you need to do is ensure debris is removed and wipe down with warm soapy water from time to time. 
The roof
There are a number of options when it comes to the roof of your veranda which can have a weighting on the cost. Below you'll find…
Open
Having an open roof will not provide any protection from the elements, meaning anything under the veranda is not protected and could become damaged. Also, you would not be able to enjoy your new space when the weather is not so pleasant.
Glass
We use glass for our veranda for a number of reasons. Firstly, the quality of our glass results in a beautiful appearance, meaning you can continue to enjoy your garden for bird watching or star gazing (should you wish). Glass also has good acoustic properties, meaning it is quieter in the rain than some other options. Additionally, glass is easy to maintain, durable and has a long lifespan (will not perish and discolour, for example) giving you peace of mind that your veranda will look beautiful for years to come.
Fabric
A cheap option, fabric can offer some coverage from the elements. However, there will be gaps where the fabric attaches to the frame of the veranda, meaning leaks are inevitable. Fabric is not as durable as other materials and so would need to be replaced more frequently. 
Plastic
While plastic is the cheaper option, it is prone to discolouration over a period of time. This results in a low quality appearance which may ruin the intended look of your garden.
Another disadvantage of a plastic roof is that it resonates when raining, meaning it can create a great deal of noise, not ideal when you're trying to sleep! 
The "nice to haves"
If you're investing in your outside space, it goes without saying that the goal is to create a practical, beautiful space you can enjoy all year round. So naturally, you'll likely be considering some nice to have features on your veranda. 
Here are some of the add-ons that you might want to consider which come with a cost. 
Integrated lighting
Lighting enables you to maximise the use of your veranda all year round. Whether you're an early bird or a night owl, integrated lighting allows you to enjoy the space whatever the time of day.
Heating
If you opt for a glass roof, as in our models of verandas, there are a range of heating options available to you. You could choose to have a low maintenance gas fire. You could also opt for a traditional fire pit or chiminea as the glass can withstand the heat. However, it can leave a soot deposit on your roof, which can be wiped off easily with a damp cloth or sponge.
Another option is to have a wall mounted outdoor heater. The benefit of this is that it takes up little to no space, meaning you can maximise the area whilst staying cozy. 
Installation
DIY Installation
There are some self build kits which you can purchase online. You'll need to have a sound knowledge and competency of DIY, such as laying cement foundations. However, if you are wanting added extras such as integrated lighting and heating, it would be recommended to have a qualified electrician to complete this part of the installation. 
Another point to consider is if the installation is not correctly completed. This could result in your veranda being damaged and/or could pose a health and safety risk. If your veranda does become damaged, it could be a costly process to get it repaired, or could even result in you needing to purchase a brand new kit.
Professionally installed
Having your veranda professionally installed is by far the easier option for you. Installers can complete any electrical work which may be required, ensure the veranda is installed correctly, safely and to a high standard. This means you can be confident in knowing that your veranda will last for years to come, leaving you to enjoy your new outdoor space. 
We hope this article will give some insight into the decisions and factors that could impact cost.
If you would like a quote or advice, email sales@erwltd.co.uk  with a picture and measurements and a member of our team will be happy to help.
You can find our range of verandas here:  http://erwltd.co.uk/outdoor-living-brochure/