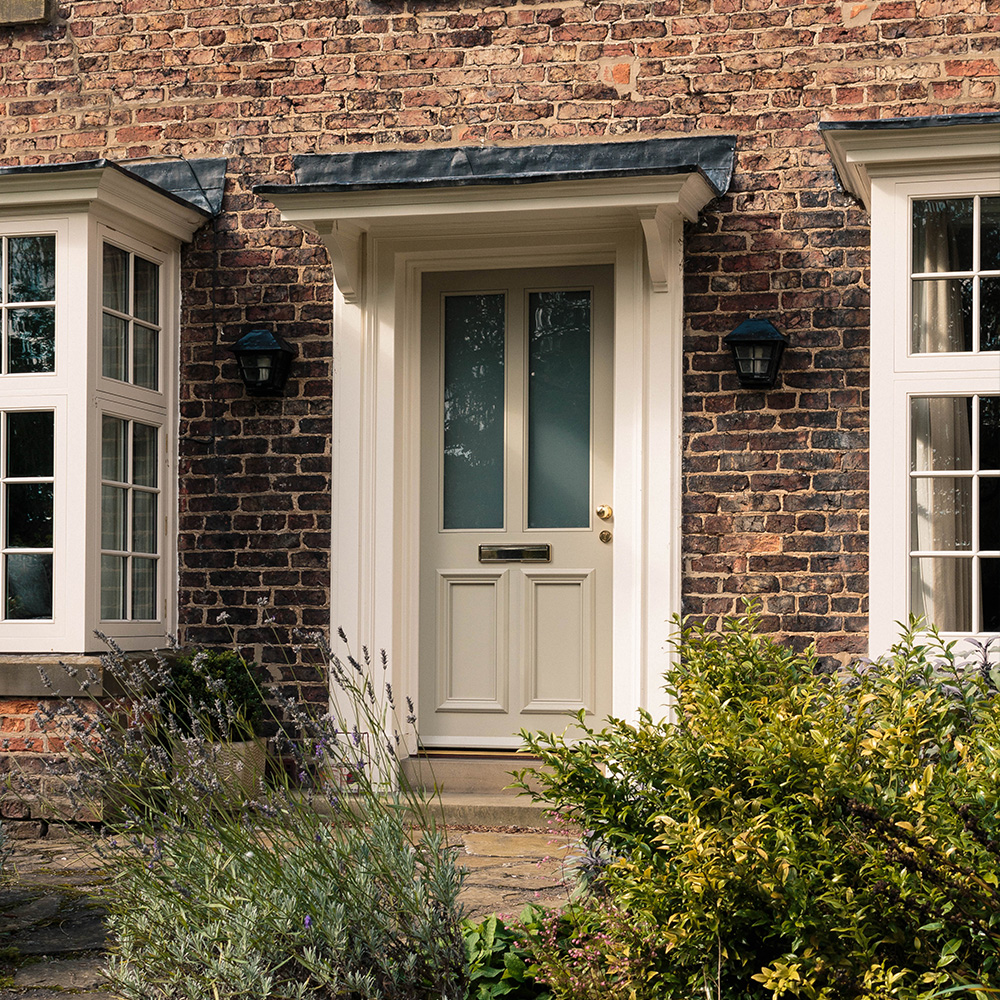 This article was published on August 11, 2021
Choosing a new front door can be a complex decision, from picking the right style to suit you and your property, to colours and ironmongery; it can all be a bit of a minefield. However, one of the most important decisions you will make is the material your door is made from. 
Many people are led to believe that uPVC doors have a longer lifespan than a timber counterpart; this is actually not the case. If cared for properly, a timber door has an average lifespan of 56-65 years. However, we know of timber doors which are hundreds of years old and are still in great condition. uPVC on the other hand, has an average lifespan of just 25-35 years.
Many websites mention that good maintenance increases the lifespan of a timber door, but doesn't go into detail about what you need to look out for. This article discusses how you can extend the life of your wooden front door.
Maintenance 
We recommend conducting an annual inspection of your door and frame to check for any damage or general wear and tear. It's best to do this in the spring/summer in order to conduct any work needed before the bad weather draws in. It is also easier to spot any flaking paint on brighter days.
There are four areas you need to check when completing your inspection…
The door itself
Check for any flaking paint, this will affect the waterproofing of your door so it's important to undertake any maintenance as soon as possible. It's also important to check around the edge of the door as it's a common place for damage to occur. 
If you have glazing, check around the seals and any leadwork for leakage or damage. Always seek advice for this as it's a delicate area to manage and you could make the matter worse if attempting a DIY job. 
It is also important to note that paint will not last forever; we recommend you repaint doors every 5 five years or stain every 3 to maintain our 8 year warranty/guarantee. This is not to mean that it will last longer, hence we recommend annual inspections to maximise the longevity of your door.
The frame
Many people ignore the frame when doing an inspection, but it is one of the most important parts to ensure your door is energy efficient by not letting water or wind into your home. 
Before inspecting, wipe down the area with a damp cloth to ensure you can get an accurate look of the frame. Check the join of the door frame for cracks or warps, if you spot any it's important to get this fixed as soon as possible to prevent moisture swelling the frame. If untreated, this would result in problems with your door fitting in the frame. 
Next, check the frame does not have any damage, such as chips or dents. These can affect the seal of the door to the frame and so will affect efficiency. It is important to fix these issues before they become more of a problem.
Finally, check the paintwork. If there are any flakes the frame will need repainting. It is important to fully prepare the area before applying a new coat of paint; just painting over it will result in it flaking again. 
The seals
Regularly wipe down the door seals with a damp cloth to keep dirt and moss to a minimum. You will need to check the seals are attached to either the frame or the door, without any breaks. Door seals are not only there to protect your home from the wind or rain, but are required by law under FD30S to prevent the spread of smoke. If there is any damage to your door seals, this must be rectified immediately.
The hinges
Check that your door opens and closes smoothly, if not, the hinges may need some lubrication applying to the joints. 
Rust can develop over time as the hinge will come into contact with moisture. This occurs over time and can be managed if caught early. If you find that there is a small amount of rust, there are products available to remove it. 
If the hinges are too badly corroded, they will need to be replaced. 
Recap
Wooden front doors are a beautiful, durable and sustainable asset to your home. With the right maintenance and care, your door will undoubtedly outlive and outperform a uPVC counterpart. 
We hope that you've found this article useful. If you would like a quote or advice on a new wooden front door, please do get in touch either by calling 01642 45616 or emailing sales@erwltd.co.uk and a member of our team will be in touch. 
You can also download our brochure here: https://erwltd.co.uk/brochure/