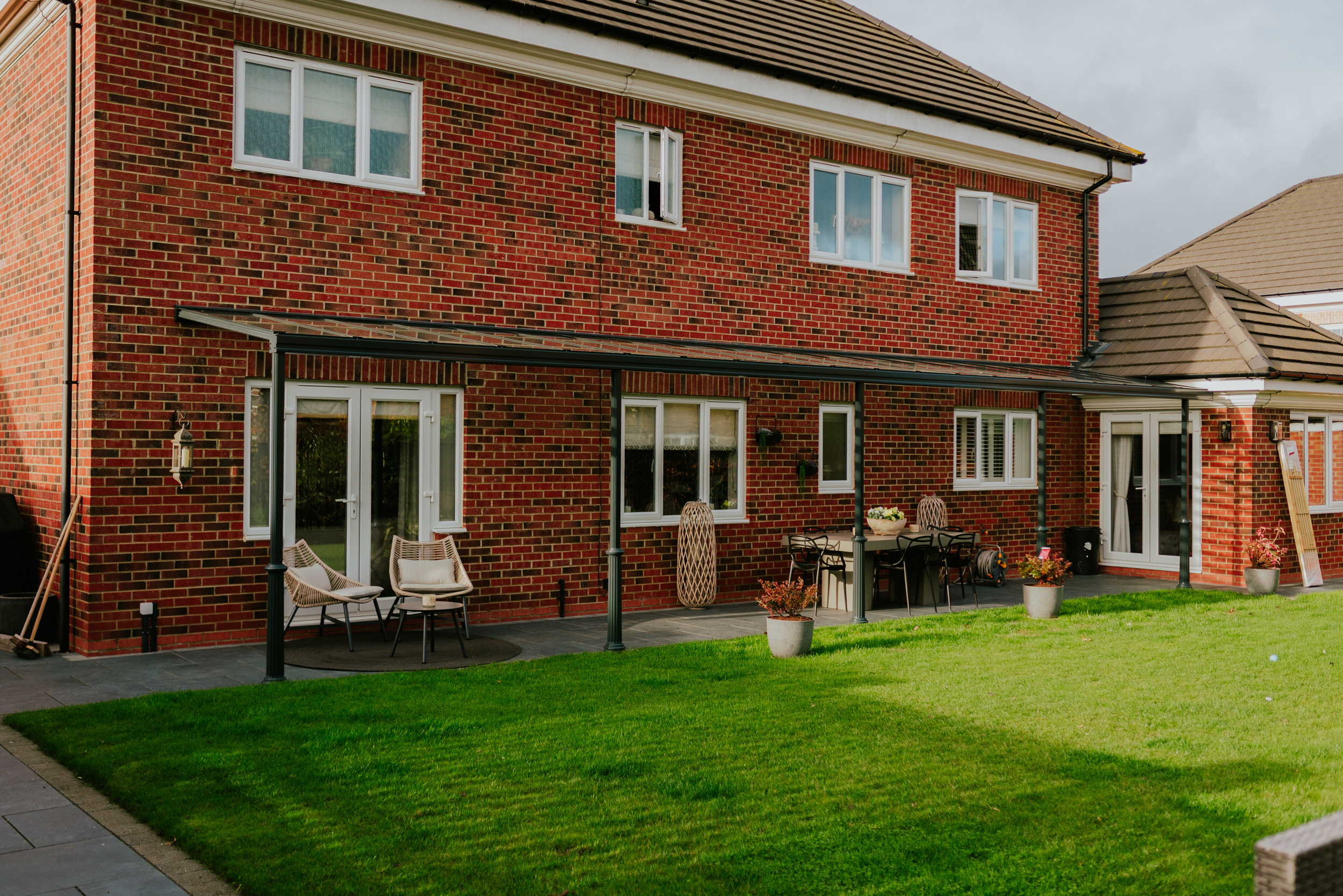 This article was published on April 27, 2022
With so many of us confined to our homes over recent years, there's been an upsurge in people carrying out DIY projects on their houses and gardens, including interest in DIY verandas, often inspired by YouTube videos that make it appear more simple than the reality. 
You might think cost is the only difference between DIY Vs professionally installed verandas; before you roll your sleeves up to tackle this specialist construction project, there's a number of additional and important factors to consider, which we've outlined in this article.
Quality
There is a substantial difference in the quality of design, materials and construction between a DIY veranda and a professionally installed veranda. 
Typically DIY veranda kits are an "off-the-shelf" solution that come with multiple restrictions, including limiting your choice of designs and the standard of fit; two main elements that contribute towards the overall quality of your finished veranda.
Even if you're planning to design your own DIY veranda, it's easy to affect the quality by potentially missing vital design details or construction materials and techniques that are either unknown to you or are only available to professional manufacturers like ourselves. 
By comparison, professionally installed verandas like our glass veranda range are custom made and bespoke to your property. The option to choose from various fixtures means you can make your outdoor living space truly your own and ensure the perfect fit, both aesthetically and functionally for your home.
In addition, the purchasing power of an established business when compared to an individual person means we can access wholesale suppliers, enabling us to construct our verandas from high grade materials such as UV-activated self-cleaning glass and Qualicoat and Qualimarine standard aluminium, that would be financially and logistically outside your reach with a lone DIY project.
Another factor to consider is what happens in the event of an accident, say, if a glass panel is broken during installation. For a DIY project, you'd have to cover the costs yourself and spend time sourcing and ordering replacement parts. Something which could be difficult if you bought a full kit. If your veranda was professionally installed, the responsibility of replacing the broken panel would be up to the company who installed it.
All of the above, combined with the level of construction and installation experience that comes with a team of specialists in contrast to even an experienced amateur, means a professionally installed veranda will consistently deliver an unrivalled level of quality in comparison to a DIY veranda.
Longevity
Quality can greatly influence another important factor, longevity. The durability of your veranda comes down to the calibre of the materials and construction, including not only the veranda itself but also the preparation of the site.
A well prepared site is essential for the stability of your veranda and although you can carry out this work yourself, it is time consuming and labour intensive. A professional team will be experienced in understanding how to prepare the site, including tackling any site specific requirements that crop up and due to the extra manpower, they will be able to complete the work more rapidly, meaning a faster installation and less disruption to your home life than with DIY.
Longevity also means considering aspects that can affect the longer term site stability, for example adequate drainage, which a professional team will understand how best to approach and a professionally designed veranda will have taken into consideration, such as our Californian Contemporary that has the downpipes hidden inside the posts. 
A DIY veranda being a one-size-fits-all solution can't respond to the specific needs of your site and without a specialist construction and installation team to guide you, the longevity of your veranda can be severely compromised.
With so many variables involved including site preparation, it can be difficult to estimate the lifespan of a DIY build but with a professionally installed veranda one of the biggest benefits is the company guarantee you will receive. For example, all our verandas come with a 10 year guarantee and 25 year life expectancy. We can confidently offer this guarantee to all our customers because as trained specialists with years of hands-on experience, we're able to consistently construct high quality outdoor living structures that we know will give decades of service.
Cost
It can be tempting when contemplating a DIY veranda over a professionally installed veranda to only consider cost as the main deciding factor, however as we've demonstrated both quality and longevity are perhaps more important and both of these elements affect the short term cost and long term financial benefits.
If you're keen to install your veranda as soon as possible, it might seem that the cheaper cost of a DIY veranda can make it a faster option, however professional companies can help with the cost. For example, we provide a buy-now-pay-later option, so our customers don't have to wait to start enjoying their outdoor living space. 
There's more than the initial outlay to consider when it comes to cost, the typically longer lifespan of a professionally installed veranda means the return on your initial investment is significantly better and the longer term financial benefits of a professionally installed veranda are even more evident if you look to sell or remortgage your property in the future. 
As highlighted in some of our other blog posts, an outdoor living space can add value to your property by increasing your living area and a high quality finish and design can also help with saleability for example, knowing your professionally installed veranda comes with a guarantee and has been safely and securely attached to your property by professional, can help increase a potential buyer's confidence.
Summary
With the increase in interest for outdoor living and DIY projects you might be considering installing a DIY veranda as a cheap solution, however as we've highlighted in this article, cost is only one of the main factors that should be considered with quality and longevity being perhaps more important.
The finance options available at ERW mean cost becomes less of a barrier to accessing a professionally installed veranda, ensuring you can enjoy the high quality finish and lasting durability that is only found with a professionally designed, constructed and installed veranda.
If you're exploring your outdoor living options this spring and would like to see firsthand how a professionally installed veranda might look on your property, our showroom is open for viewings and includes furniture, so you can really envisage using the space.
Please email one of our team at  sales@erwltd.co.uk or call 01642 456167 to arrange your viewing.