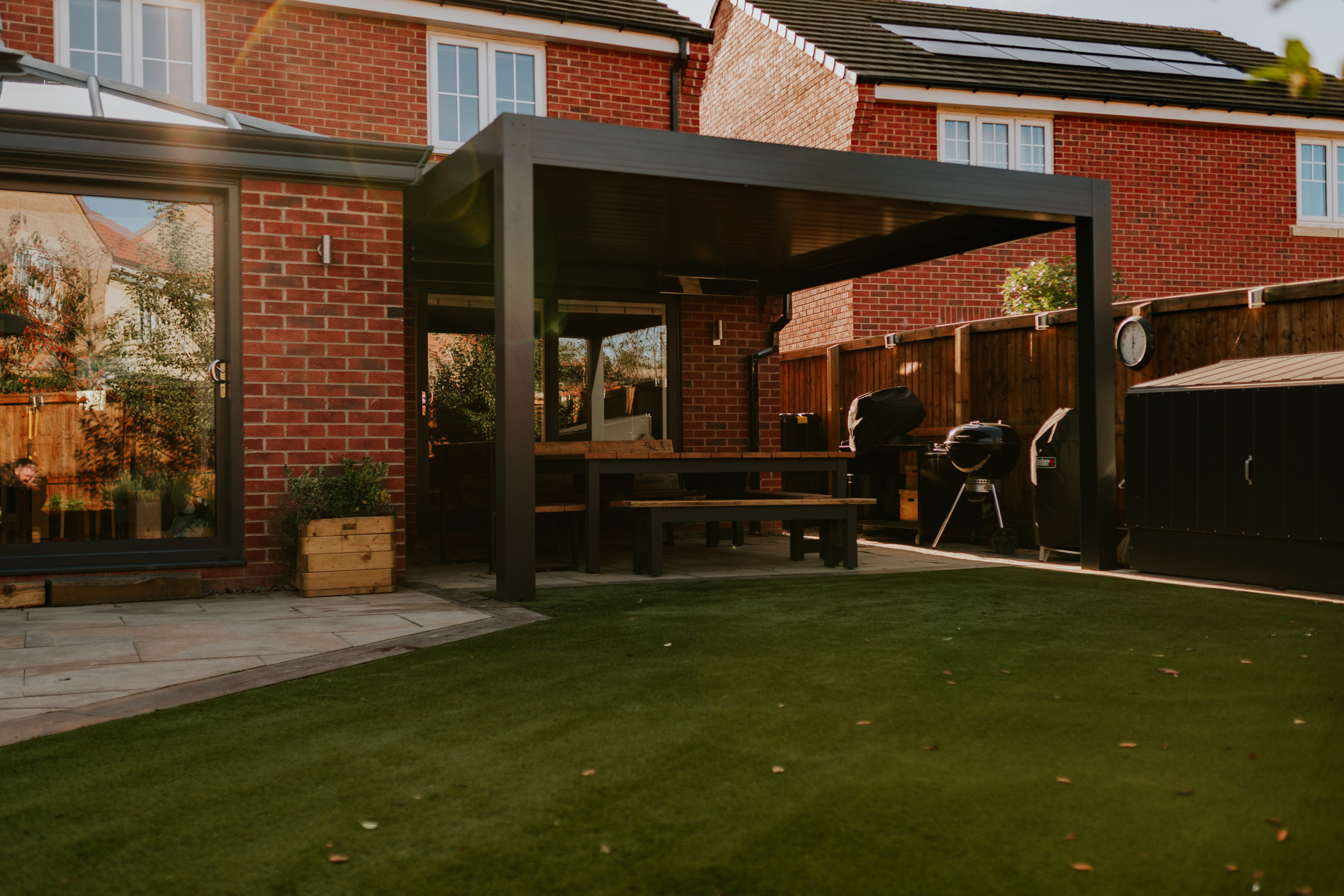 This article was published on April 27, 2022
If you're looking to improve your garden with a new outdoor living space, or wanting to replace an old, outdated wooden pergola with something more modern and robust, recent developments in materials and construction techniques mean there's a vast number of options available to you. However, this overwhelming choice can make it very confusing when trying to make a selection. 
This article discusses why we believe aluminium is the best material for freestanding pergolas, to help you make an informed decision when choosing the ideal pergola for your garden.
Durability
With the ability to withstand high winds and heavy loads from snow, aluminium is the perfect match against the harshness and unpredictability of the British weather. Whilst vinyl pergolas are long lasting, their load bearing capability is lower than an aluminium counterpart so you will need to remove excess snow from the roof to prevent buckling. 
Wooden pergolas can deteriorate quickly if not maintained properly (something which is later discussed). If left untreated, wooden pergolas can warp, or rot, meaning the integrity is compromised and a full replacement may be required. 
Low Maintenance 
Resilient, durable and sleek, the only maintenance an aluminium pergola requires is a rinse down with a hosepipe, and for more stubborn stains, a wipe down with warm soapy water and a cloth or sponge to keep it looking pristine; something which takes little time and costs a fraction compared with wooden or vinyl pergolas. 
Whilst wooden pergolas may give your garden a 'rustic' feel, they require much more maintenance to ensure they are in good condition, such as sanding, staining or varnishing to protect it from the elements. Although more durable than wooden pergolas, vinyl has a tendency to stain and requires specialist cleaning products to remove them. 
The ease of maintenance found with an aluminium pergola means you can spend your free time enjoying using your outside living space, rather than repairing or cleaning it.
Ease of Installation 
Aluminium is extremely light in relation to its strength when compared to other metals used in construction, such as steel or iron. This strength to weight ratio makes aluminium the best material for freestanding pergola frames, with the additional benefit of making it much faster and easier to assemble onsite.
By choosing aluminium, the disruption to your home life during assembly is minimal because aluminium's light weight means it requires a smaller team and less equipment to deliver, manoeuvre and construct your freestanding pergola in your garden. Here at ERW, we have an experienced team of installers who manage your install from start to finish, resulting in a quality finish and peace of mind that your pergola will last for years to come.
Wooden pergolas can be quite heavy- depending on the wood you have chosen- meaning installation may require a number of people to lift and secure the frame in place, if it is a DIY project, you may need to ask for help from family/friends to install. 
Sustainability 
Sustainability is becoming an important consideration for many people when making purchasing decisions, particularly the sourcing and life-cycle of materials. 
Installing an aluminium frame is one of the most eco friendly choices you can make for your new pergola. Considered a sustainable material, aluminium is perhaps the most eco friendly of all the metals, mainly due to the fact it retains all of its original properties when recycled.  This means it can be repurposed infinitely, without any effect on its quality.
Vinyl, a common pergola material, is by comparison notoriously difficult to recycle due to its chloride content, which is very challenging to handle and even toxic.  This combined with its relatively short lifespan of only 10 years compared to aluminium, means vinyl is significantly less environmentally friendly.
Summary
There are a number of significant reasons why aluminium is the best material for freestanding pergolas including its durability, premium finish, ease of installation, sustainability and low maintenance requirements.
If you're looking to explore your options for outdoor living, our showroom aluminium pergolas include furniture, so you can clearly envision how you may use each space.
To arrange a viewing or to speak to one of our team about any of our outdoor living spaces, please email sales@erwltd.co.uk or call 01642 456167