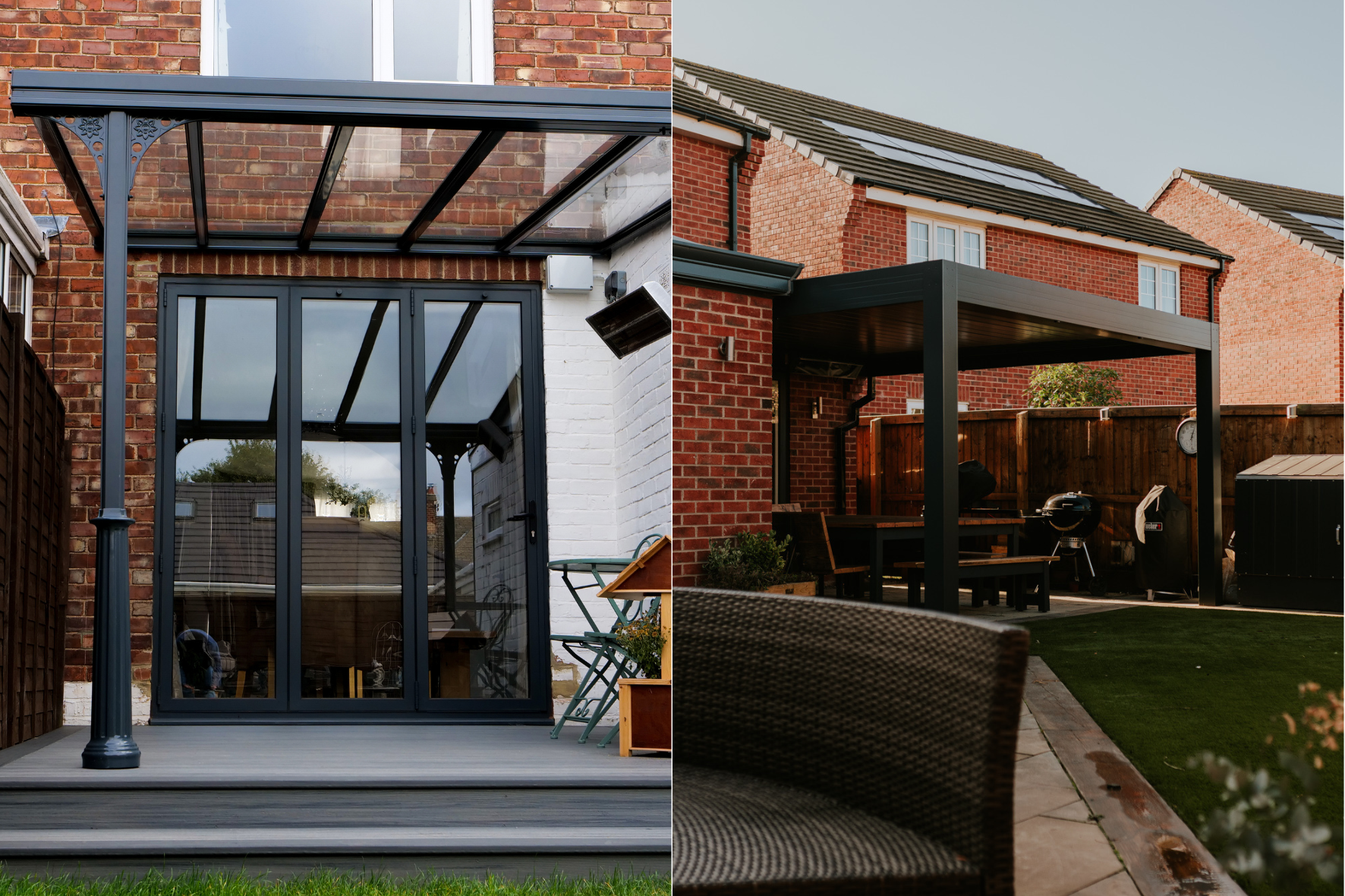 This article was published on October 23, 2022
It's confusing sometimes to know the difference between a veranda and a pergola as well as knowing which one would look better for your home. This article has been written to try and help you make a more informed decision about your home and how to accentuate its character.
This information is based around ERW's outdoor living ranges and may differ from other manufacturers.
Roofs:
Our verandas are designed with 6mm or 8mm toughened glass roof which means it improves acoustic properties for reduced rain noise during a downpour as well as providing a sparkling finish that is easy to maintain.
A pergola is designed with an original concept where you can control the ambience of the room by one simple remote which operates the blades in the roof to different settings, these include: protection from harmful rays, ventilation to prevent heat build up, regulation to control the entry of the sun's rays and lighting to adjust the intensity of the natural light.
Length:
Both our verandas and pergolas can be built to an unlimited length to help maximise your space. 
Our verandas have varying distances between posts to help with an unrestricted view, they vary from 3-6 metres.
Our pergolas have 7 metres distance between each other so that you can maximise your outdoor living area.
Guarantees and guttering:
Our verandas come with a 10 year guarantee and a 25 year life expectancy for the canopy frame in all styles of veranda. They have guttering integrated into the frame for a sleek appearance and minimal maintenance.
Our pergolas come with a 10 year guarantee on the structure and louvers plus a 3 year guarantee on mechanisms.They also have integrated guttering into the frame so that you can maintain the elegant appearance.
UV protection:
Our verandas have different glass options for you to choose from, such as: 6mm toughened clear, bronze tint, grey tint or 6mm self-cleaning clear glass which comes with a special UV activated coating that breaks down dirt to then be washed away by the rain.
Our pergolas can be modulated to suit your or to tame the weather using the remote control to operate the blades to let as much or as little sunlight in as you want.
Summary:
A veranda has a solid roof, and is usually attached to your home or another building (summer house etc). A pergola has a louvred roof which gives you the options of having it closed, tilted or fully open. Our pergolas can also be freestanding, giving you the option of creating the perfect summer room. 
We understand that all of this can seem a bit overwhelming, however our friendly staff are on hand to assist you in any way they can to help you maximise your living space. Our showroom is available to book an appointment so you can see all our products in the flesh and make a more informed decision about your home. For more information about our showrooms call 01642 456167 or email info@erwltd.co.uk