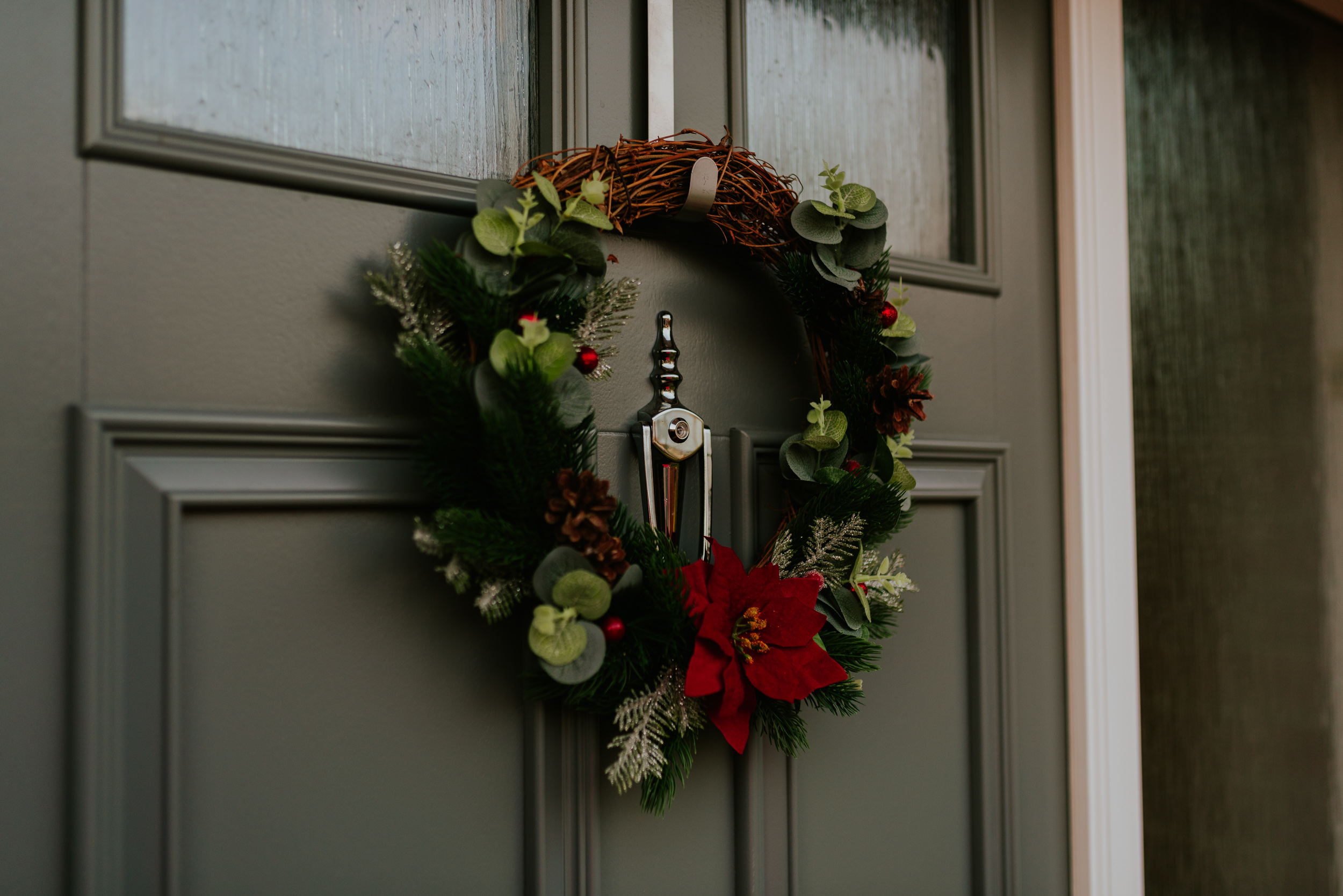 This article was published on December 1, 2022
As it is the festive season, people are decorating their homes and trees with tinsel and lights. It's the most magical time of the year. Are you someone who has always wanted to have a beautiful wreath outside their front door at Christmas? There are many different ways to attach them to your door, but some of them can cause damage, which is not ideal. We have written this blog to tell you about some ways to safely hang a wreath on your door.
Wreath Preparation
Before attaching a wreath to your door, you should make sure it won't scratch or damage it. Check for any protruding wire or staples. These are often used to secure the foliage in place, especially in fresh wreaths. One way to prevent scratching is to attach felt or other padding to the back of your wreath.
It's also important to check the weight of the wreath. This is to ensure whatever you're using to attach the wreath can take its load without failing.
Reusable sticky/sucker hooks
Reusable sticky hooks are the option most people tend to go for due to their simplicity. This is a great option for doors with glazing as the sucker pads attach easily to glass. If attaching directly to timber, it's really important to check the area for any loose paint as the hooks can pull the paint off on removal.
Ribbons
A ribbon can also be a great way to hang wreaths as it makes them more festive as they come in hundreds of different colours. You could tie the wreath to a door knocker if you have one, if not you could hang it over the top to create a festive focal point. Make sure you tie it to the back of the door or to your letterbox. 
A metal hook
A metal hook can be damaging to your door as it can scratch, pull the paint off and indent the door as well as damaging the seals around it which can affect the energy efficiency of your door. However, this can be avoided if you make sure to buy a hook that has decent padding and no rough edges. 
If you don't want a wreath
If you don't want to attach a wreath to your door but still want to create a festive feel to your home, you could use ribbon to wrap around your door in the style of a Christmas present and tie a bow to make your home feel Christmassy. 
If you don't want to risk damaging your door you could always display your wreath in a window or create a centrepiece with it by including candles and pinecones as well as other festive decorations. 
If you'd like to speak to a member of our team about your home and the process of designing a bespoke and personalised door, contact us on 01642 456167 or info@erwltd.co.uk