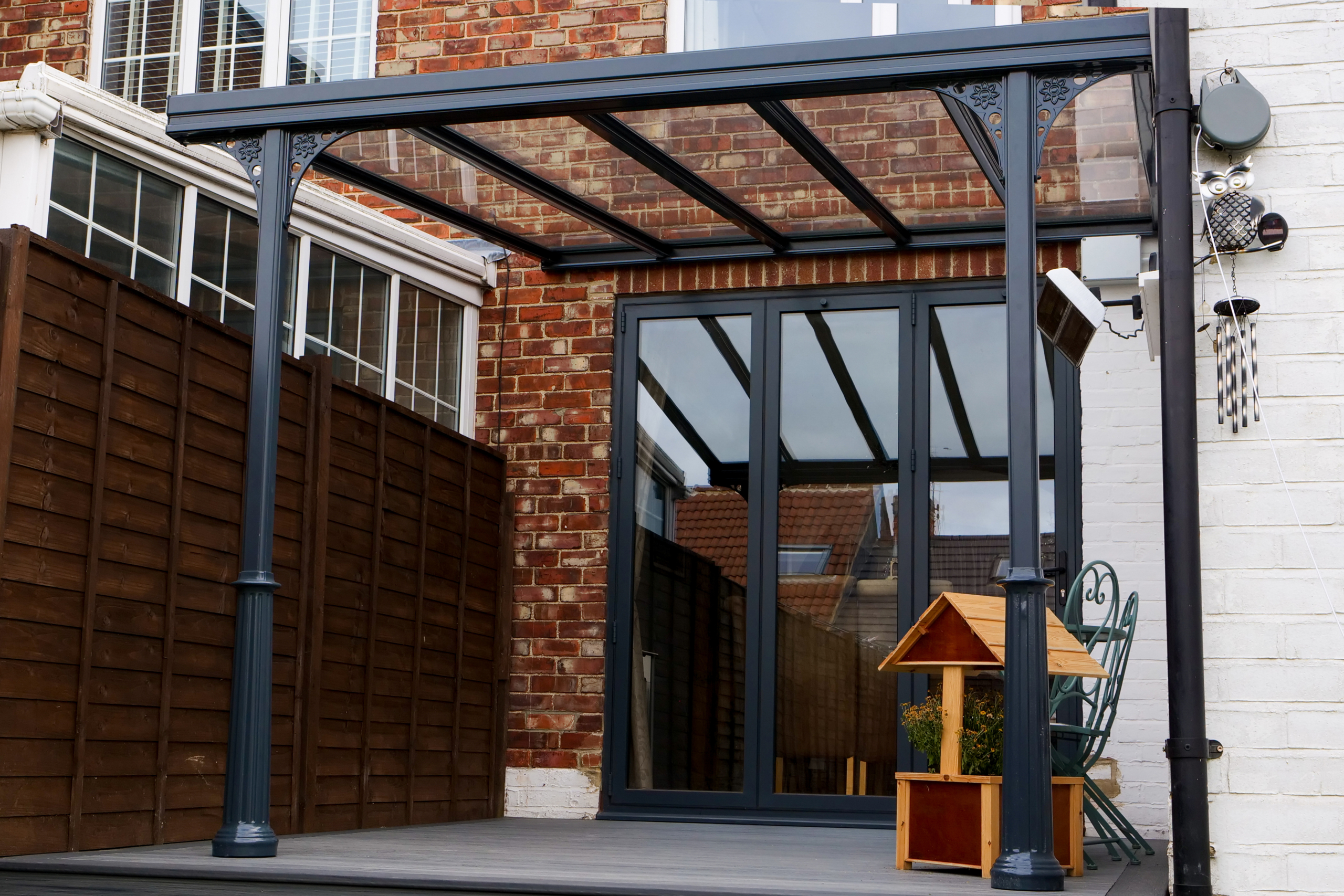 This article was published on April 3, 2023
"What are the benefits of installing an aluminium veranda?" It's a question we get asked all too often. And with several options available on the market, choosing a veranda to suit your budget and requirements can be a bit of a minefield.
Since the beginning of the pandemic, where many of us were locked down in our homes, people have been investing in their gardens to maximise its usage. One product which saw an incredible rise in popularity was the veranda. 
As people were looking to extend their living space, it came to light that there are multiple options available for them to choose from. Whilst this is great in terms of choice, it can add complexity to the decision making process. This article takes a closer look at the aluminium veranda with a glass roof; a popular choice for homeowners.
Pros of Installing an Aluminium Veranda:
Durability: Aluminium is a strong and durable material that can withstand harsh weather conditions, such as heavy rain, wind, and snow. It is also resistant to rust and corrosion, making it a low-maintenance option for outdoor structures. A perfect match for the British weather!
Customisable: There are many options on the market, meaning you can tailor your veranda to your home with relative ease. Own a Victorian property? No problem, many companies offer mouldings which compliments period properties. There are usually lighting and heating upgrades you can opt for too, meaning you can enjoy your outdoor space whatever the time of day, or weather conditions.
Increased Property Value: Installing an aluminium veranda can increase the value of your property. It adds an extra living space that can be used for entertaining guests or relaxing, making it an attractive feature for potential buyers.
Reduced Rain Noise: As glass has low acoustic properties, the sound of rain hitting the roof is fairly minimal compared to other materials, such as polycarbonate. 
Installation Time: due to the lightweight property of aluminium, the installation time of a veranda is relatively quick. Of course, this depends on the experience of the people installing the veranda and how many people are assisting. A DIY job will take considerably more time than trained professionals.
Low Maintenance: As many aluminium verandas are powder coated with premium paint, they require very little maintenance to prevent corroding. Simply wiping down with a sponge and warm soapy water will keep your veranda looking as good as new!
Cons of Installing an Aluminium Veranda:
Cost: Aluminium verandas are more expensive than other options, such as wooden pergolas or awnings. However, it is important to note that they do tend to have a longer lifespan and require much less maintenance. This may mean it is a more cost effective option for you in the long run. 
Fixed Design Once Installed: whilst other materials, such as wood, are easy to modify post installation. This could be painting the frames or adding additional sections. With aluminium verandas, this can be more complex.
Summary
Overall, the decision to install an aluminium veranda will depend on your individual needs and preferences. By weighing up the pros and cons, you can determine whether an aluminium veranda is the right choice for your home.
If you need any advice, or would like to see a range of options available, please get in touch by emailing  sales@erwltd.co.uk or call 01642 456167 and a member of the team will be happy to help. Alternatively, download our brochure for more inspiration https://erwltd.co.uk/brochure/.