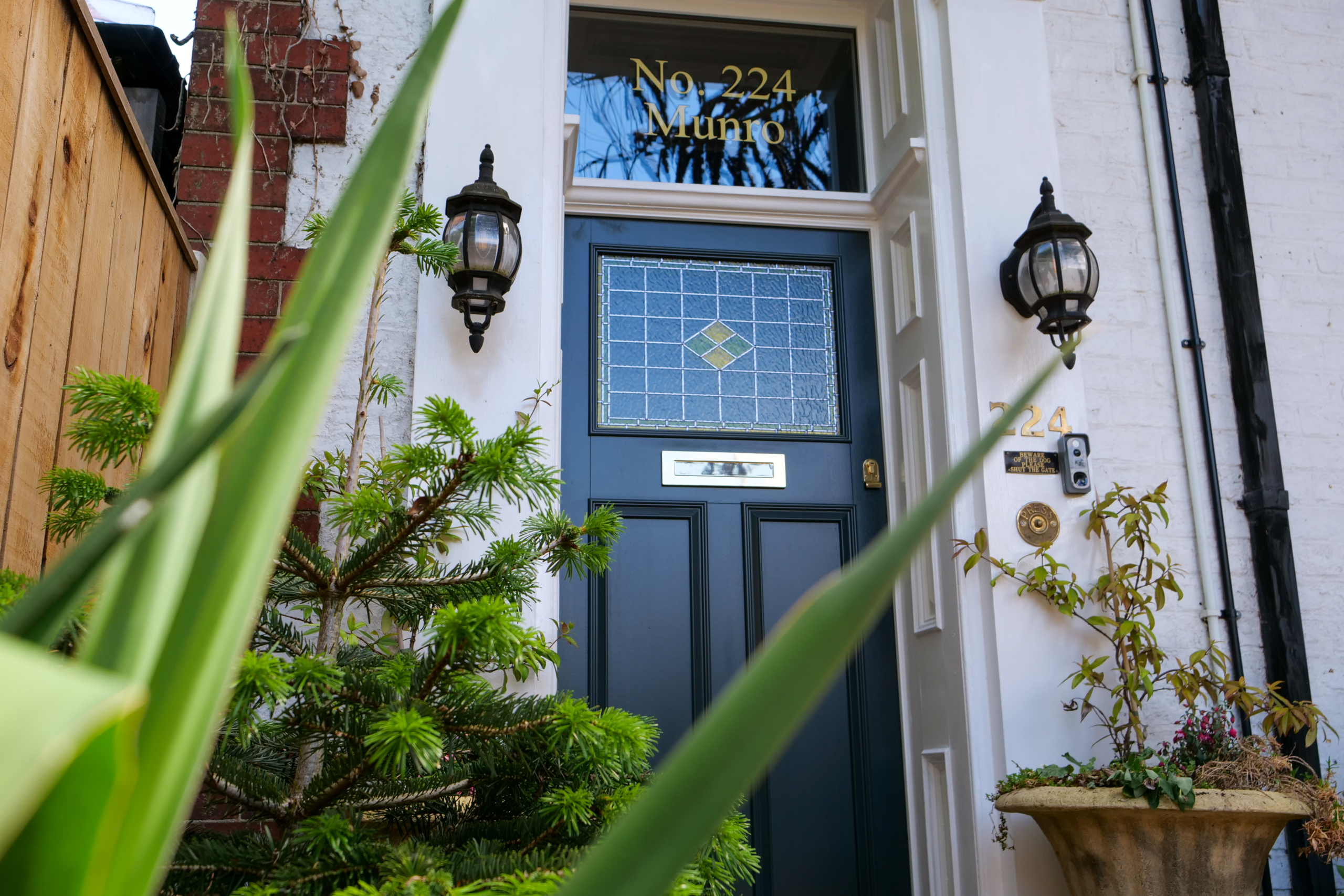 This article was published on June 25, 2023
A wooden front door is not just an entrance to your home. It's also an essential part of your home's kerb appeal. When it comes to choosing a front door, wooden doors have always been a popular choice due to their timeless beauty, durability, and natural charm. However, selecting the perfect wooden front door requires careful consideration. In this blog, we'll explore five top tips that will help you make an informed decision and choose a wooden front door that enhances the beauty and security of your home.
1. Consider the Style and Architecture of Your Home
One of the first things to consider when choosing a wooden front door is the style and architecture of your home. The front door should complement the overall design and character of your property. If you have a traditional or period-style home, a solid wood door with intricate details and panelling would be a suitable choice. Art Deco properties suit doors with intricate lead detailing, sympathetic to the era of the home. For a more modern or contemporary home, a sleek and minimalist design with clean lines might be more appropriate. Take into account the materials, colours, and finishes that will harmonise with your home's exterior and interior design.
The benefit of choosing a wooden front door over uPVC or composite is the wide range of colour options available. Here at ERW, we have over 150 different colours to choose from meaning we're sure to have a shade which suits you and your home.
2. Prioritise Durability and Weather Resistance
Since the front door is exposed to the elements, it's crucial to select a wooden door that is durable and weather-resistant. Consider doors with proper weather sealing and finishing treatments. A well-sealed door with a protective coating will prevent moisture penetration and enhance its longevity, ensuring it stands up to various weather conditions for years to come.
Ensure the door you opt for comes with a guarantee against rot and fungal decay, giving you peace of mind regarding the quality of your door.
3. Pay Attention to Security Features
Security is a paramount concern when choosing a front door. According to the Home Office, 67% of intruders break into homes through the door, often through plastic frames and doors made of weaker and more vulnerable materials.
While wooden doors exude elegance, they should also provide robust protection for your home and loved ones. Look for doors that include state of the art locking mechanisms, such as multi-point locking systems, anti-bump and anti-snap locking cylinders and security glazing.
4. Evaluate Energy Efficiency
Energy efficiency is a significant factor to consider when selecting a wooden front door, as it can impact your home's heating and cooling costs. Look for doors that are equipped with insulation materials and have a high energy efficiency rating. Choosing an energy-efficient wooden front door will not only benefit your wallet but also contribute to a greener environment.
5. Seek Professional Advice and Installation
Choosing and installing a front door involves various technical aspects that might be best handled by professionals. Seek advice from reputable door suppliers or contractors who specialise in wooden doors. They can guide you on the right door size, style, and material based on your requirements and budget. Professional installation is crucial to ensure proper fitting, alignment, and weather sealing. A well-installed front door will not only enhance security but also prevent drafts and energy loss.
We're proud to have over 40 years' experience of crafting and installing the finest timber doors across the North East of England and have earned a reputation for quality and exceptional service.
Summary
Selecting the right wooden front door is a significant decision that can enhance the overall appearance, security, and energy efficiency of your home. Remember, a wooden front door is an investment that adds value and charm to your home for years to come.
Here at ERW, we have a showroom and workshop which you are more than welcome to visit. This is where you'll have the opportunity to see our range, how we craft our doors and ask any questions you may have. We're also delighted to say that we have an in-house design studio, where you can work with our team to create the perfect door for you and your home.
To arrange an appointment, please call 01642 456167 or email info@erwltd.co.uk and a member of our team will be happy to help.
You can also download our brochure for more inspiration here.