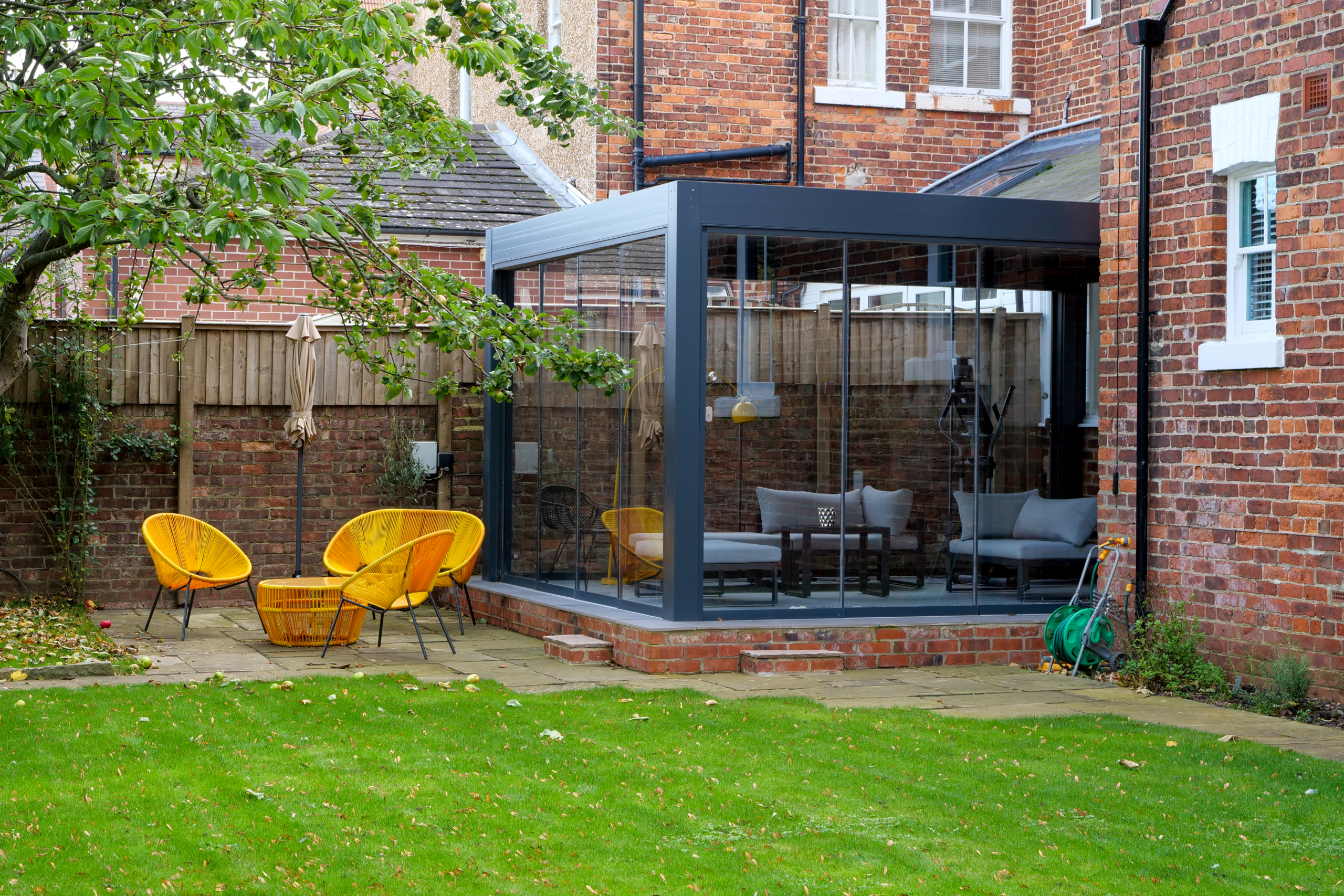 This article was published on January 25, 2023
There has been a major increase in those wanting to extend their outdoor living space since 2020. In doing so we have been asked lots of questions. So we have created an ultimate guide to help as many people as we can to hopefully find the answer they were looking for. 
What is a pergola?
A pergola is an outdoor structure usually made from aluminium or wood used to create an outdoor focal point as well as a central seating area for friends and family to gather. A pergola is usually designed with vertical posts to create a sleek and elegant outdoor living area. Pergolas usually have louvres which can be moved to open, partially close, or fully close the roof.
Why is aluminium the best material for a pergola?
Aluminium is incredibly strong, yet extremely light compared to other metals used in construction, such as iron or steel. It is an easy and quick material to install (due to it being lightweight) compared to wood, which requires a larger team to deliver and install.
How long do they last?
With proper care and maintenance, an aluminium pergola can last around 15-20 years. They can be kept clean and in good shape by using a damp soft sponge or cloth with a non-abrasive and water based household solution. Our pergolas have a 10 year warranty so that, in the rare event, something should happen, it'll be covered under our warranty. Giving you peace of mind.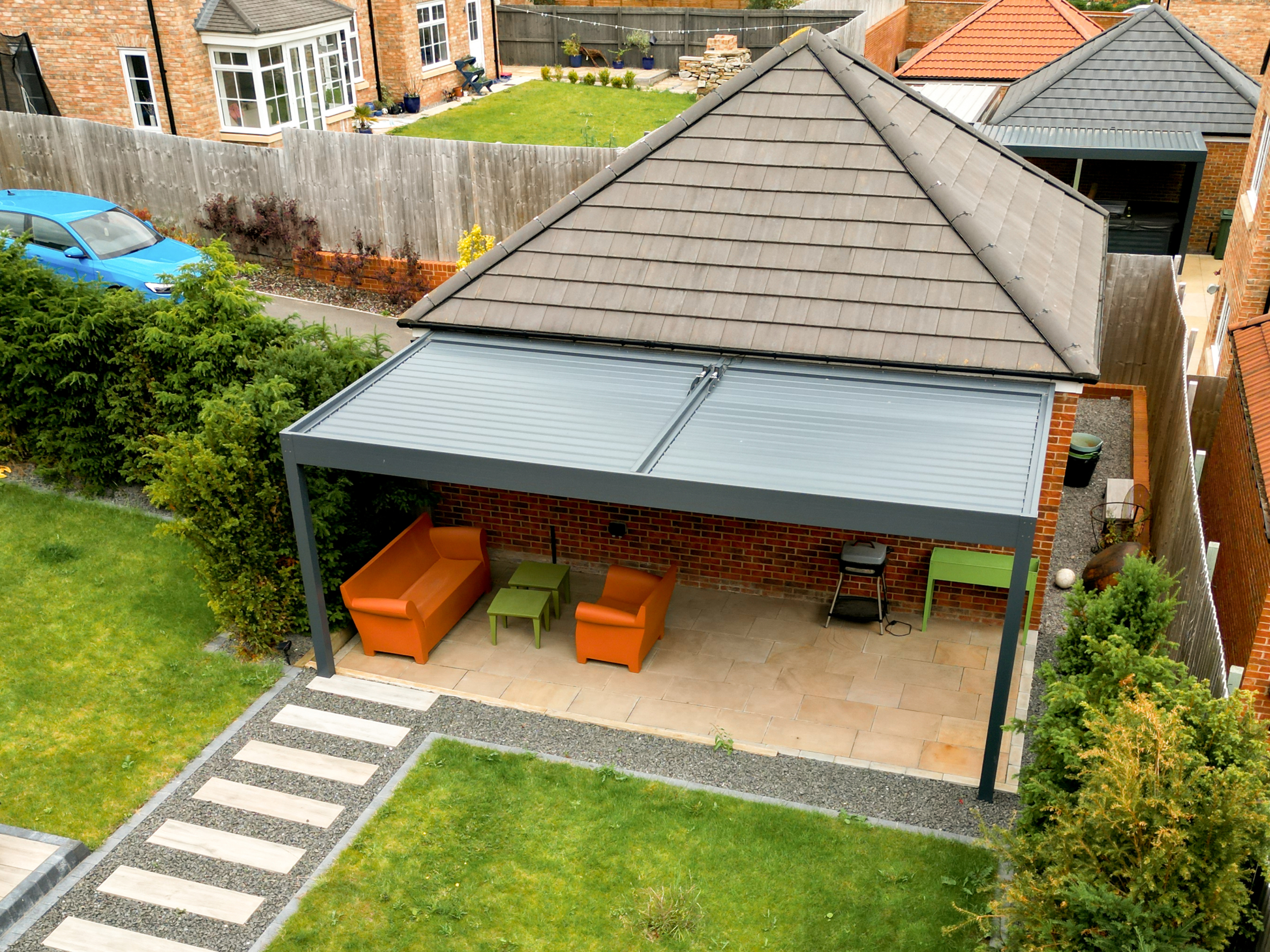 Are they sturdy?
Incredibly. They have a strong aluminium frame which offers the strength of wood and the elegance of metal. They're extremely durable as they can be freestanding or attached to the house so they can allow you to make the most out of your garden.
Do pergolas need a foundation?
Pergolas need to be attached to either concrete foundations or post footings that will anchor the structure to the ground. Before installing your pergola the right preparations should be completed to not just the design of your pergola but to the site that it will be built on. Here at ERW, this is already included in the installation process when you buy one of our pergolas, it is a stress free process unlike DIY.
Do I need planning permission for a pergola to be attached to my house?
Some pergolas are allowed under 'permitted development' rules so you wouldn't need permission to build one, however it is always best to double check with your local authority just to be on the safe side. If you're wondering whether you will need planning permission, visit https://www.gov.uk/government/publications/permitted-development-rights-for-householders-technical-guidance for further guidance. The team at ERW can also advise you on whether you live in a conservation area and can support you with any applications you may need to make to the local authority.
What is the point of having a pergola?
An aluminium pergola can extend your living space as well as the time you spend outside and with your family. They can provide a focal point for your garden or outdoor space. 
Do pergolas increase home value?
Adding a pergola to your home means that you can enjoy your garden all year round. This can increase the appeal to prospective buyers if you plan to move (always speak to an estate agent for any advice if you're looking to sell). 
How effective is a pergola?
They are brilliant for providing relief from the sun whilst still allowing some sun to fill the space. Some pergolas have remote working roofs so you can adjust the slats from where you are. Pergolas are brilliant for ventilation as they can provide shade during the summertime.
If installed near your home, the shade provided can even cool your home, providing ventilation for your indoor space.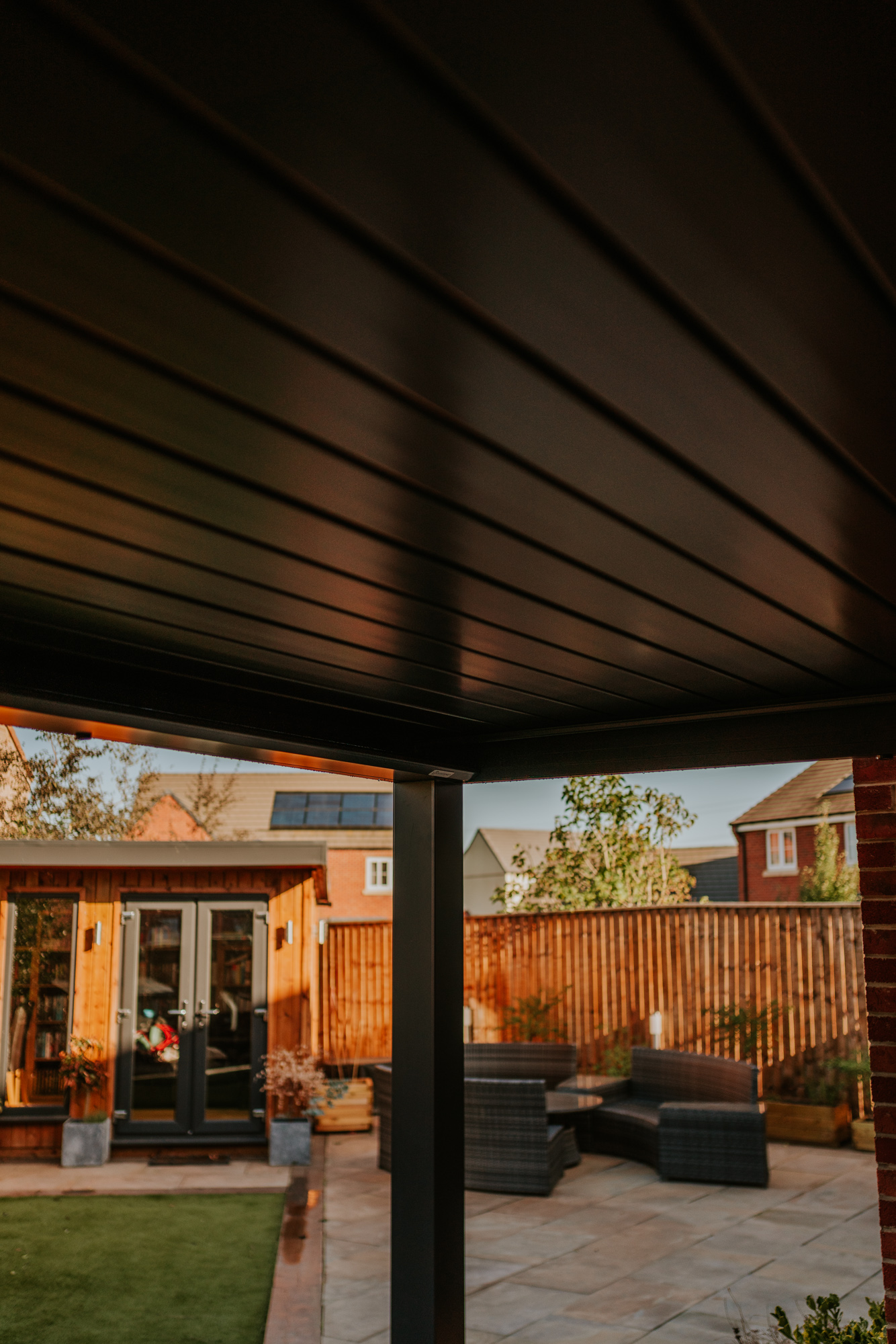 Can pergolas protect from rain?
Louvred roofs are one of the best ways to protect from rain as well as the sun, this is because the slats can be left open for sun to be let in or they can be closed to block out the sun for some shade or to shelter from the rain.
Do you need gutters on a pergola?
Yes, all of the rain that is caught on the roof has to go somewhere, so a gutter system is incredibly important. Here at ERW, all of our pergolas include guttering systems built in.
What is the best colour for a pergola?
Most people tend to go for neutral colours that will go with any colour scheme. Anthracite is ERW's most popular colour choice due to its modernity and hides dirt quite well!
Are pergolas cold in winter?
There are many ways to keep your pergola warm by opting for glass sides to your frame or you could add outdoor heaters as well as making the pergola have a cosy feeling. Perhaps with a log burner, blankets and lights you'll be able to enjoy it all year round. 
Here at ERW, there is an option with our pergolas to have glass sliding doors with your structure and different lighting options to help you enjoy your garden well into the evening. 
If you would like to find more ways to keep your pergola warm in the winter, read our blog https://erwltd.co.uk/2021/10/22/how-to-enjoy-your-veranda-in-the-winter/ 
Which is better: motor roofs or manual roofs?
This one is a personal choice. Motorised roofs mean your louvres move with a click of a button to suit all weather conditions such as slanted for shade and closed for rain. Manual roofs work in the same way, but require you to wind the louvres. 
Here at ERW, all our pergolas are installed with motorised roofs so you can quickly shape your environment and enhance your outdoor experience with stylish weather protection.
We hope that you found this article helpful and we have answered all your possible questions, if you have any further questions or would like to visit our showroom and see our aluminium pergolas in person please don't hesitate to get in touch on 01642 456167 or info@erwltd.co.uk