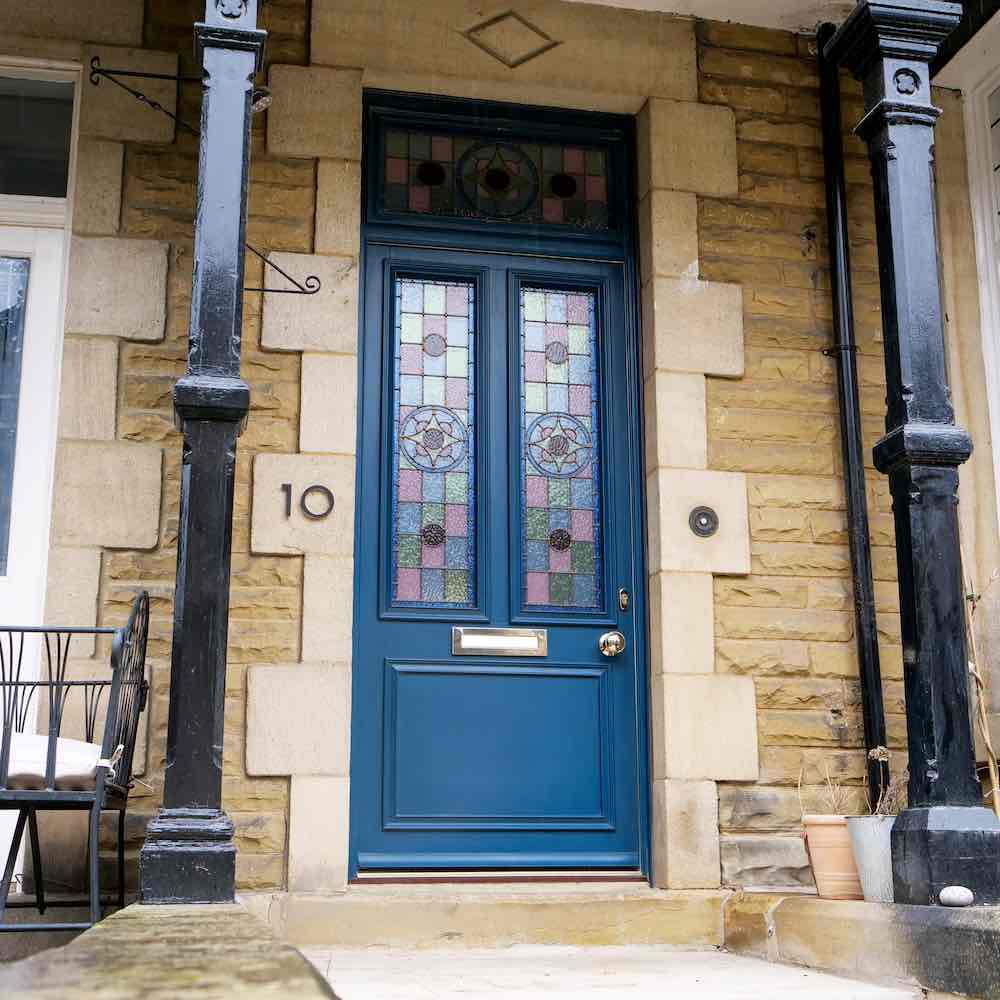 This article was published on April 1, 2023
There's nothing quite like a wooden front door. Beautifully crafted, providing some serious kerb appeal and a warm invitation to any guest, timber doors are unbeaten in style. However, there are several things to consider when choosing your new entrance door when opting for wood. This article discusses what to look out for to ensure your new door matches not only your property's, but also your style. 
Timber Type
When it comes to timber types, there are several options on the market. The more costly options are the traditional hardwoods, such as oak and mahogany. Beautiful to look at but potentially hard hitting on the pursestrings, these choices are good if you want to leave your doors unpainted.
More affordable options include European Redwood and pine. When treated correctly, these materials have an incredibly long lifespan, looking and feeling like more expensive options.
Choosing a timber type that meets your needs and preferences, as well as your budget, is important.
Door Style
Whilst we understand that your home is your castle, and you'll want to add your own personality stamp on your front door, it's also important to be sympathetic to your property. For example, if you live in a Georgian property, it might look quite disjointed to add a very contemporary door to your home. 
Nevertheless, that doesn't mean you can't add your personality. Things like colour options, glazing styles and ironmongery can all add personality to your entrance. 
Security Features
With the advancement of security mechanisms in recent years, timber front doors have never been more secure. However, not all doors have top of the range security measures included. It's really important to ask what security features any new door may have with the company supplying it. It's also vital that the door fits securely in the frame, so that any potential burglar does not have an opportunity to break in easily. That's why at ERW, we always fit a new frame with any door we supply.
Energy Efficiency
It's crucial to consider the energy efficiency of a new timber entrance door. A well-insulated door can help to reduce energy bills and keep your home warm in winter and cool in summer. Look for doors with a high energy rating or those designed specifically to be energy efficient.
Many people assume that uPVC doors are more thermally efficient than their timber counterparts. This is not actually the case. Wood is an exceptional insulator material, meaning naturally good levels of energy efficiency.
It's also important to note that glazing can impact a door's energy efficiency. Make sure you opt for a company which uses energy efficient glass within their doors to maximise its efficiency. 
Warranty
Lastly, it's important to have peace of mind with your new front door. Ensuring the company you choose offers a warranty means you are protected should something occur with your door. When deciding on which company to use, check with them on what type of warranties they offer on things like glazing, paintwork and rot and fungal decay. If a company does not offer any form of guarantees, it may be wise to choose a company that does.
We've written a blog on things to consider when choosing a timber door company. You can read it here.
Summary
It's always important to do your research when it comes to choosing a new wooden front door. Speak to different companies, visit their workshop or showroom and do with a list of questions to ask. When beautifully crafted and matched to your style, a timber door stands in a league of its own.
If you are planning to replace your new front door, we'd love to have a chat to see how we could help! Simply email sales@erwltd.co.uk or call 01642 456167 and a member of the team will be happy to help. You can also download our brochure, where you can see our range of crafted wooden doors.