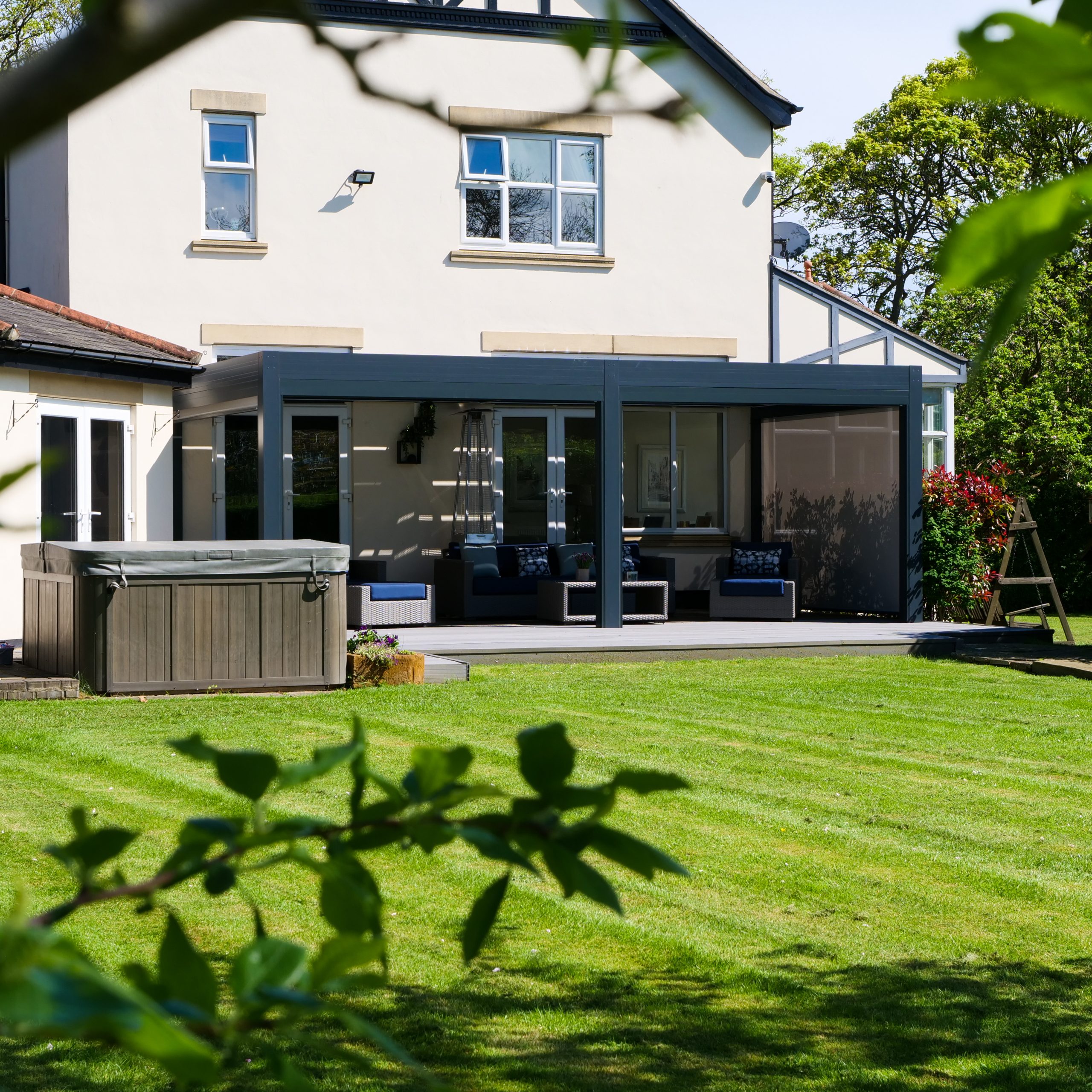 This article was published on July 25, 2023
When it comes to enhancing your outdoor living space, an aluminium pergola can be a fantastic addition to your garden. Since the pandemic in 2020, we've seen an increase in the pergolas' popularity, with many people choosing these beautiful structures to enjoy their gardens all year round.
Traditionally made from wood, the introduction of aluminium to the outdoor living scene has provided more options for people to choose from. This article discusses some of the benefits of aluminium pergolas over their wooden counterparts.
Durability and Low Maintenance
One of the key advantages of aluminium pergolas is their durability. Aluminium is a lightweight but robust material that is resistant to rust and rot. Unlike wood, aluminium doesn't warp, crack, or split over time. This makes aluminium pergolas an excellent choice for outdoor structures that will withstand various weather conditions, including rain, snow, and intense sunlight. Perfect for the British weather!
Additionally, aluminium requires minimal maintenance, saving you both time and effort in the long run. Cleaning is simple; we recommend using warm soapy water, a sponge and a microfibre cloth to get your pergola looking as good as new.
Versatility in Design
Aluminium pergolas offer great versatility in terms of design options. They can be customised to match your specific requirements. Various sizes are available with the option of adding lighting, heating and retractable screens. This means that the space created is perfect for you and your loved ones to enjoy all year round.
Ease of Installation
Compared to their wooden counterparts, aluminium pergolas are lightweight, making them easier to handle and install. This means less fuss and disturbance during the installation period. In most instances, your pergola can be installed within one day, meaning more time for you to sit back and enjoy your new outdoor living space!
There are pergola kits available for you to install yourself. However, we would recommend getting a professional to install your pergola. We've written a blog on the benefits of getting an outdoor living product installed professionally. You can read it here.
Longevity and Value for Money
Whilst not the cheapest option on the market, opting for an aluminium pergola can provide long-term value for money. Due to its durability and resistance to wear and tear, an aluminium pergola can last for many years without the need for frequent repairs or replacements. Our pergolas come with a 10 year guarantee for complete peace of mind.
Wooden pergolas, with little maintenance (similar to an aluminium pergola), can last for around five years. The longevity can be increased up to 10 years with yearly cleaning, staining and sealing. 
Taking these factors into consideration, opting for an aluminium pergola may make more financial sense in the long run due to its low maintenance. It can also increase the value of your home, if you're looking to sell in the future.
Summary
Choosing whether to buy an aluminium pergola ultimately depends on your personal preferences, budget, and the specific needs of your outdoor space. Aluminium pergolas offer durability, low maintenance, versatility in design, and long-term value for money.  
If you're looking for more inspiration, download our brochure. It can be found here.